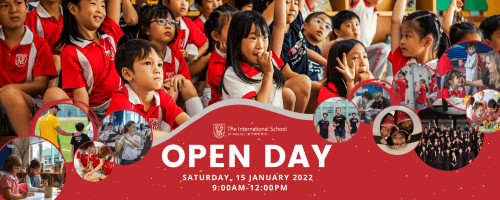 Experience The TIS Difference!
Registration is now closed! But don't worry, you can still attend, as we welcome walk-ins!
See you tomorrow!
TIS is hosting an Open House on Saturday, January 15. Join us and experience our welcoming atmosphere and meet our professional teachers and see how the TIS Advantage can make a difference in your child's education journey.
For families who complete a TIS Registration form on January 15, 2022, TIS will waive the application fee of MOP1,500 for one-time only.
All prospective students and families are welcome to attend.
Time: 9am to 12pm (doors open at 8:30am)
Some of our students will also be available so that you can receive first-hand information about our School.
Everyone is invited to view our great school and community, including prospective students and families and current TIS families.
Please click here for more information about how our education program can help your child.
體驗澳門國際學校的與眾不同!
登記現已結束。學校仍然歡迎有興趣出席但仍未進行登記者到訪!
明天見!
澳門國際學校將於1月15日(星期六)舉辦開放日活動。請加入來體驗我們的熱情氛圍,與我們的專業教師團隊見面並了解認識我們的專業老師,看看澳門國際學校的優勢如何在您孩子的教育旅程中發揮更大的啟發。
在2022年1月15日當天報考澳門國際學校的家庭,可免1500元報名費。
時間:1月15日(星期六)上午9點至下午12點。
我們的在讀學生也會出席,以便您能獲得關於我們學校的第一手資訊。
請點擊這裡以獲得更關於我們的教育計劃如何幫助您的孩子的信息。