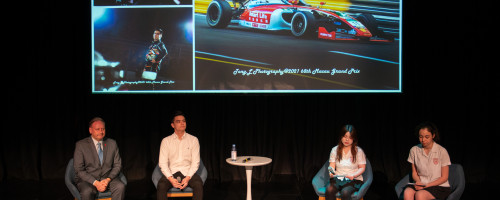 TIS Welcomes Back Alumnus Charles Leong for a Student Led Q&A Session
TIS Class of 2020 Alumnus Charles Leong came to TIS on December 9 to participate in a Q&A session with student leaders. Members of the Student Council, Middle School, and Primary School Leadership teams decided and asked 21 questions that Charles answered regarding his TIS experiences, his racing career, and his future plans. Charles also asked the audience about their own dreams and aspirations and encouraged students to follow their dreams.
Charles won the 67th and 68th Macau Grand Prix on Formula 4 machinery. He is the only local driver to have won the Grand Prix twice.
Click this link for a shortened version of the Q&A session (4 minutes):
Click this link for the unabridged version of the Q&A session (43 minutes)