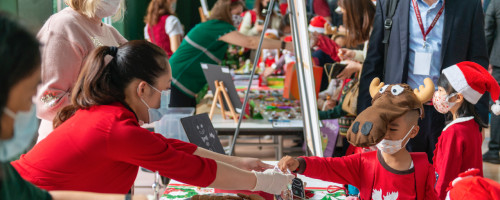 3rd Annual Kindergarten Funderland
The smell of warm gingerbread cookies and homemade hot chocolate brought festive cheer to our School on Thursday morning!
As you stepped into the MPR3, where the 3rd Annual Kindergarten Funderland was being held, the holiday spirit was all around. The room was painted in red by Christmas sweaters and costumes worn by teachers, staff and students, that spanned from reindeers, little santas and elves.
Santa also made an appearance, thanks to the parents from TISPA!
Unique Christmas gifts made by our kindergarten students, includedChristmas tree decorations, gift wrapping paper and greeting card., There were all sorts of other seasonal goodies catching the eyes of our parents as they made their rounds at each table. Each class also had a big, colourful canvas that was up to be auctioned off, painted by the tiny hands of our kindy students with the help of their high school peers.
This extraordinary project by the kindergarteners aims to raise money for coral reef restoration as part of this year's AIR Program and to donate some of the proceeds to local animal association, Masdaw. It's lovely to see our youngest students practicing one of our School's Tiger Traits, caring. The month of December is an excellent introduction to this trait that we hope will be carried out not only through this month, but throughout their lives! Just like Christmas is more than a season (it's a spirit!), being caring and all the Tiger Traits are part of who we are.