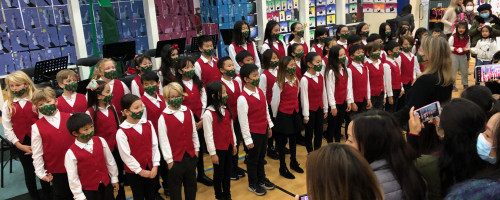 TIS was a very festive place this past week as a variety of Christmas-themed events were held throughout the School to celebrate the holiday season, culminating in the annual Winter Wonderland for the TIS community on Thursday night. Here's just a sample of what was happening around the school:
Kindergarten Funderland
Held on Dec 17, this annual event showcased the creative talents of our youngest students with beautiful handmade Christmas ornaments, paintings and other items all on sale for parents to buy. Money raised will go toward purchasing plants and vegetables for the Kindergarten garden in support of this year's Activist in Residence sustainability goals.
Gr. 5 Winter Market
If you were looking to do some Christmas shopping then the Grade 5 Winter Market was the place to be on Dec 17! Students sold festive crafts, gifts, upcycled products as well as yummy treats. All proceeds will be donated to the TIS Sustainability Program.
Winter Wonderland
Just like school spirit, holiday spirit can bring the whole school community together. TIS families showed they had plenty of festive cheer at the annual Winter Wonderland on Dec 17. There was something for everyone, including Christmas shopping at vendor booths, games and activities, BBQ and drinks, a bake sale, and mostly importantly, a visit from Old Saint Nick himself! There was also a Christmas raffle with lots of fabulous prizes. Thank-you to the School Community Events Committee, TISPA, and the many volunteers who all played a role in organizing this wonderful evening of Christmas fun.
TIS Giving Tree
The TIS community once again showed its support for those in need by donating more than a hundred presents for the Giving Tree. This year, the gifts will be given to families and children who have been impacted by the pandemic. Many thanks to Ms Kelsi Olstad and the Middle School Leadership team who decorated the tree and kept track of all of the gifts, as well as Ms Sara Billey who coordinated delivery of the gifts to the families.