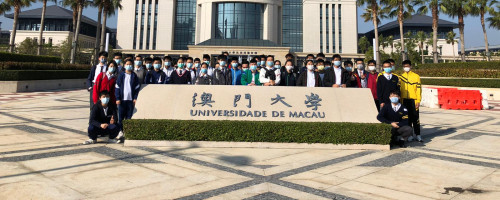 A Visit to State Key Laboratories at UMAC - a Grade 11's reflection
Grade 11 student Mendy along with other students from schools across Macau, recently attended an informational field trip to the University of Macau to check out some of their state key laboratories. Here Mendy gives a reflection of her visit.
"The trip to the University of Macau on 2nd December 2020 was really a good opportunity to visit the three state key laboratories that specialises in particular academic interests and are supported by the central government of the People's Republic of China. The three laboratories were the State Key Laboratory of Analog and Mixed-Signal VLSI, the State Key Laboratory of Quality Research in Chinese Medicine, and the Stake Key Laboratory of Internet of Things for a Smart City. The professors told us a lot of useful information about the individual laboratories so we could have a general idea for each of them. We also did a fun experiment during the trip where we tested the UV value of different objects such as a phone - surprisingly we found that our phone has a pretty low UV value. Overall, I found the Chinese Medicine Laboratory to be the most interesting because I saw many cool sets of equipment and it seemed rare for me that a laboratory focused [solely] on researching Chinese medicine."