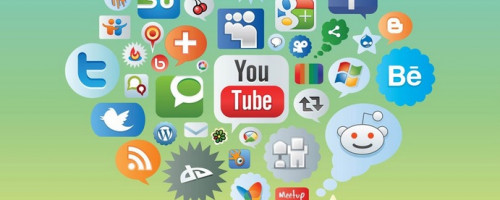 Parenting Kids in the Age of Screens & Social Media
Screens are everywhere. Most homes have TV's, computers, tablets and/or smartphones; this wasn't the case twenty years ago. In terms of available technologies and social media platforms, our world has changed significantly in that time. Check out these statistics:
The iPhone appeared in 2007 - over 2.2 billion units have been sold as of November 2018

The iPad came to market in 2012 - over 500 million units have been sold as of September 2020

Facebook launched in 2004 - today it has 2.7 billion active users

WeChat launched in 2011 - now it has over 1 billion active users

Instagram arrived in 2010 - it had 1 billion users as of June 2018

Tik Tok came to market in 2016 - it surpassed 2 billion downloads in October 2020
If you are a parent, your childhood was considerably different than the one your child (children) is (are) experiencing now. Considering the explosive growth in the number of devices and social media platforms at our disposal, it is important to ask this question: "Are there any negative impacts that screens and social media have on all of us?"
To answer this question, one can refer to a number of research studies and support sites that have looked at the topic in great detail. Here are some examples:
Kids aged 8 to 12 spend an average of six hours per day using entertainment media (Rideout, 2015).

In another study, 98 percent of children age 8 and under live in a home with a mobile device and a television, and 42 percent of kids now have their own tablet devices (Rideout, 2017).

Problematic social media use (i.e., feeling addicted to social media) was related to lower life satisfaction and self-esteem scores (Hawi, N.S.; Samaha, M., 2017)

Many teenagers suffer from sleep deprivation as they spend long hours at night on their phones, and this, in turn, could affect grades as they will be tired and unfocused in school (Richter, 2015)
So, what can you do as a parent to ensure that your child doesn't experience the negative effects that excessive screen time and social media use can cause? Here are some suggestions:
First, daily limits for screen time should be established; this is something that you should decide with your child rather than imposing an arbitrary number. Apps like Screen Time (Apple) can be utilized by users to track screen time and even set limits on specific apps or websites. Family Sharing is a tool (also offered by Apple) that allows a parent to manage a child's device by setting app limits, restricting certain sites and approving purchases from the App Store.
Second, keeping devices out of the bedroom at night is recommended. The addictive nature of devices and social media sites means that some children end up gaming or socializing late into the night instead of getting much needed sleep. Having a set time for when the technology leaves the bedroom ensures that children use the time available to do homework and/or study. A typical middle school student should have no more than two hours of homework per night.
Third, establish sacred times when technology use is prohibited. For my family, this has always been dinner time. We decided as a family that there would be "no phones at the table" (even when we eat out) and we are very strict about this. Because of this, our evening meal time allows us to connect with one another and it ensures that a strong relationship exists amongst all members of my family. It is important that you lead by example. Studies show that children get many of their habits from their parents. If you're always on your device, accessing social media etc., your children will be more likely to model these behaviours.
Last, as a parent I encourage you to learn more about screen time, digital addiction and social media use. A number of resources are available to you that can help you to navigate this very difficult landscape. Common Sense Media is a website that I highly recommend (check out the parents section) and other resources are suggested below. "The Social Dilemma" (Netflix) is a fabulous presentation that looks at the ways technology companies keep us engaged with social media. Being a parent isn't always easy, but your involvement in your child's digital life is crucial to him/her surviving and thriving in a digital world.
Resources:
Apple Family Sharing: https://www.apple.com/family-sharing/
How to Keep Your Digital Footprint Clean (Blog Post): https://kimmaslin.com/project/how-to-keep-digital-footprint-clean/
Google (Android) Family Link: https://families.google.com/familylink/
References:
Alexis R. Lauricella, Ellen Wartella, Victoria J. Rideout (2015). "Young children's screen time: The complex role of parent and child factors." Journal of Applied Developmental Psychology, Volume 36: 11-17
Rideout, Victoria (2017). "The Common Sense census: Media use by kids age zero to eight." San Francisco, CA: Common Sense Media: 263-283.
"Parents Need to Know | Common Sense Media." Commonsensemedia.org, 2020, www.commonsensemedia.org/parent-concerns. Accessed 13 Dec. 2020.
Hawi, N.S.; Samaha, M. (2017). "The Relations Among Social Media Addiction, Self-Esteem, and Life Satisfaction in University Students". Social Science Computer Review. 35 (5): 576–586.
Ritcher, Ruthann (October 2015). "Among teens, sleep deprivation an epidemic". News Center. Stanford School of Medicine. Retrieved 14 November 2020.