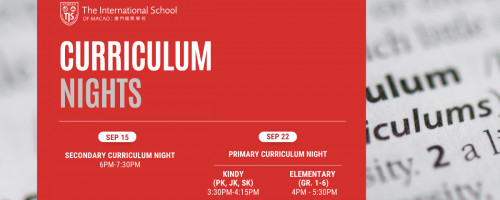 Curriculum Nights are Coming Up!
This year, Curriculum Night is being segmented into two dates:
15 SEP (THU): Secondary (Gr. 7-12)Curriculum Night

22 SEP (THU): Primary (PK-Gr. 6) Curriculum Night
Please check the schedule below for the time of your child's session.
Curriculum Night is a fantastic opportunity for parents and guardians to meet with classroom teachers to learn about the grade level curriculum and expectations for the school year as well as to receive helpful information that will benefit your child's learning this year. It also is an opportune occasion to connect with other families and to participate in Q&A's - even if you don't ask questions, you can learn a lot from questions asked by others!
Kindergarten (PK, JK, SK) Curriculum Sessions, from 3:30pm-4:15pm
Elementary (Gr. 1-6) Curriculum Sessions*:
Session 1: 4:00pm-4:45pm
Session 2: 4:45pm-5:30pm
*the presentation of the 2 sessions are the same, please choose to attend ONE of the two sessions.
Secondary (Gr. 7-12) Curriculum Session, from 6pm-7:30pm
6pm-6:15pm - Black Box Theatre - Brief Overview with Administration
6:15pm-7:30pm - families are encouraged to visit the various classrooms (refer to the table below) and meet teachers, learn more about the programs, collect course outlines, and ask questions.
Level 1 North Wing

CTF - Room 1430

Level 2 South Wing

Learning Lab - Room 2000

Secondary Music - Room 2310

Level 3 North Wing

Drama - Black Box Theatre

Level 3 South Wing

Student Services Centre - Room 3000

Level 4 North Wing

IB Coordinator, Theory of Knowledge (TOK), Extended Essay (EE) & Academic Counselling Office - Room 4560

Art - room 4540 & 4550

Level 4 South Wing

Secondary Science Lab - Room 4010

Counselling - Room 2350

In Secondary Library

English, Math, Humanities, Mandarin, CAS, Counselling, EAL, Duke of Edinburgh, Model UN, Outdoor Education, PE, Volunteer Team, Experience Week, Athletics/ECA's, TISPA
We hope many parents can attend this night. There are many reasons why parents should attend Curriculum Night, but it goes without saying that the most important reason of all, is that it'll show your child that you are interested in their experiences as a student and in what they are learning and how we, as educators, can empower our children to become lifelong learners! #TISEmpowersLearning