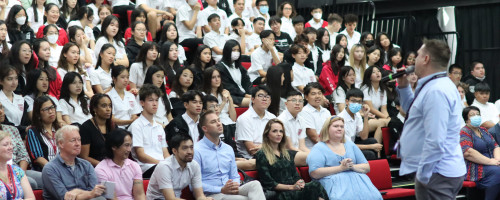 Get Ready for an Exciting and Fresh New Year at School
TIS is thrilled to have you back and we can't wait to embark on this incredible academic journey together. As we kick off the new academic year, we want to ensure that you feel supported, inspired, and motivated every step of the way. Whether you are a returning students or joining us for the first time, we want you to know that each of you brings something unique to our school community. Your talents, interests, and perspectives enrich our classrooms and make learning even more vibrant. So don't be afraid to share your ideas, ask questions or pursue your passions!
So much has already happened on our first day!
Check out what we got up to on the first day of school:

Student Ambassador and Mentor Program
An initiative by Middle School Vice-Principal, Dr. Ogiamien, this is an opportunity to foster connection, share experiences, and cultivate a welcoming environment. Ambassadors will advocate for their peers, providing support and guidance to incoming students navigating their new surroundings, and exemplify the positive leadership we deeply value. They understand the difficulties of being a student and are always ready to lend a listening ear or offer encouragement.
At TIS, we go above and beyond to build a strong, inclusive community, and this fantastic program is a great example of that dedication. Let's applaud these outstanding students making a difference!
Student Council Welcome Peers With a Treat
The student council did an excellent job creating a welcoming and positive student environment this morning. Providing treats is a thoughtful way to start the school year. We hope everyone enjoyed the treats and feels excited about the upcoming school year.
Unlocking New Horizons: TIS Experience Week
In the first assembly of the year, there was already much excitement as students learned a few things that are in store for them. For the first time in three years, our long awaited TIS Experience Week is going GLOBAL! With thrilling destinations such as Italy, India, Cambodia, South Africa, and many more!

New Teachers Arrive at TIS
We are delighted to introduce the incredible additions to our TIS family this year! We have 29 passionate, skilled, and devoted teachers, educators, and specialists who have joined our team. These remarkable individuals bring an average of over 10 years of international teaching experience from over 30 countries! Get ready to be inspired by their diverse perspectives and expertise.
With so many exciting new things in store, our students are in for an amazing academic year! We look forward to going #aboveandbeyond to help each and every one of our students reach new heights and grow to their full potential. Join us as we embark on a year of innovation, growth and incredible achievements together!