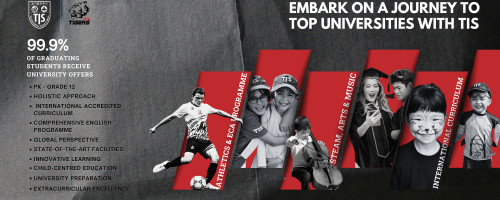 Limited Spots Available: Apply Now and Unlock a World of Opportunity
At TIS, we are committed to nurturing ambitious students and preparing them for a successful future. Our school, offering kindergarten to grade 12 education, is proud to announce an exceptional opportunity for your child to embark on a journey that can lead to offers from top universities and a world-class education.
With a legacy of excellence, TIS connects students with dedicated and highly qualified teachers who are passionate about inspiring young minds. Our educators create engaging and stimulating learning environments that foster a love for knowledge, critical thinking, and personal growth.
We take great pride in our track record of success. An astounding 99.9% of our graduates received offers from prestigious universities. This extraordinary achievement speaks volumes about the quality of education we provide and the opportunities we offer our students.
Join us at TIS and give your child the opportunity to excel academically, grow personally, and gain the qualifications that are recognised by leading universities worldwide.
Apply today to secure a place for your child's bright future! Apply here.
名額有限:立即報名,為孩子帶來無限機遇
踏上卓越學術之旅!
澳門國際學校致力於培育有抱負的學生,為他們迎接成功的未來作好準備。本校提供幼稚園至十二年級的教育課程,我們非常自豪地宣佈,學校將為您的孩子提供機會,讓他們踏上通往頂尖大學及世界一流教育的成功之旅。
憑藉卓越的傳統,澳門國際學校將學生與一群敬業、高質素以及熱衷於激發年輕人思維的老師聯繫起來。我們的教育工作者創造出令學生嚮往且具啟發性的學習環境,培養學生對知識、批判性思維及個人成長的熱愛。
我們對一路以來的成功深感自豪。歷屆,99.9%高中畢業生獲世界著名大學錄取。此非凡成就充份印證了我校的教育質量以及為學生提供的機會等方面的成效。
加入澳門國際學校大家庭,讓孩子有機會在學術上脫穎而出、獲得全面的個人成長、爭取全球頂尖大學認可。
立即報名,為孩子的美好未來取得先機!點擊此處申請.