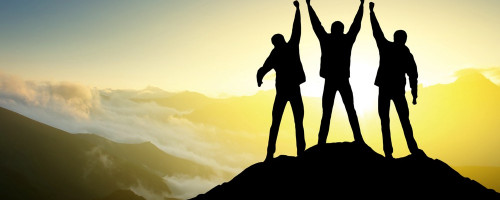 The best part about being a member of the TIS community is, of course, the students. They all have a range of interests and talents, and it's our pleasure to help them develop the skills that they already have or learn the ones they don't. These can be academic, athletic or artistic, and we take pride when we see that a student has accomplished something that they couldn't do before. This is success, and it deserves to be celebrated.
Success doesn't necessarily mean the same as being the best or #1. Success is all about taking the next step in an individual's path towards growth. Success should not always be measured against the accomplishments of others; ideally, it should be about how much you've improved since the last attempt. As a runner, this is how I measure success. In the years since I've started running long distances, I have never once won a race. Does this mean I haven't been successful? No. I'm always trying to better my previous times. It's the clock that I'm racing against. All I can only control is myself and my training. My success depends on me and how far I've come.
Our students demonstrate success in many ways. The traditional way of recognizing academic success in our students is through the Honour Roll certificates that come with achieving an average greater than 80%. The list of students on the Honour Roll seems to grow each term, and this is exactly what we like to see. However, at TIS, we take great pride in the TIS Advantage and the mindset that it's not only the academic grades that are important. With that, we see that there are plenty of other ways to demonstrate success that don't necessarily factor into a percentage grade:
Participation in exchanges and camps

Completing class projects

Creating artwork

Volunteering

Meeting and surpassing AR goals

Where our students have been accepted to university

Acting, dancing, singing in one of our drama performances or during the Benefit Concert

Doing and learning new things during Experience Week

Joining a Club or making a Team
These successes can be celebrated in many ways. Teachers often take to social media and tweet what they see happening in the classroom or around the school. The school's media team does a fantastic job in publishing articles about students, written by students. We fill our trophy cabinet and hang banners in the MPR when we win an athletics tournament. We have started showcasing an Artist of the Month. We call up students during our assemblies to be recognized in front of their peers and we give out awards at the graduation ceremony.
As a community, it's important to take the time to celebrate the success of our students. Students should know that we take pride in what they've accomplished and that they should take pride in it as well. Through a shared celebration, each student's success becomes everybody's success.