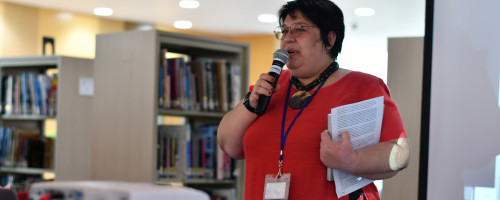 Book Launch An Overwhelming Success!
More than sixty staff members, parents and students came to show to their support and help celebrate the official launch of Ms Doina Tonner's debut book I. Undone on Thursday afternoon in the Secondary Library.
The event flowed smoothly with Mr Barks serving as MC and reading reviews of I. Undone from people around the world who have recently purchased the book. Many, like this woman, were inspired by Ms Tonner's personal journey to discovering her creativity.
"Hi Doina, I bought your book, I just wanted to let you know that it made me cry. It feels like my own story, reading it was like seeing myself on the page. I almost feel like there's no point in writing my own book because you've already made the book I wanted to find in the world! Thank-you so much for making me feel less alone. It's such a gorgeous book, I love everything about it. Enjoy this moment. Rose xo"
Mr Chignall, a long time friend of Ms Tonner, then addressed the audience and talked about her exceptional talents as a teacher, mentor and writer. This was followed by a speech by Ms Tonner herself, who spoke about her journey of becoming an author and her hopes that it would inspire others to do the same.
A silent auction of some of Ms Tonner's mixed media artwork was also held; MOP6,000 was raised and donated to the Cradle of Hope, a non-profit organization that manages two homes for children from birth to 18 years of age. The winners of the door prizes were Ms Dianna Campre and Ms Sara Kakoske.
Signed copies of I. Undone are still available for purchase at MOP250 for softcover and MOP350 for hardcover. Please email Ms Tonner at doinatonner@gmail.com.
If you missed the book launch, here is TDM's story about the event: