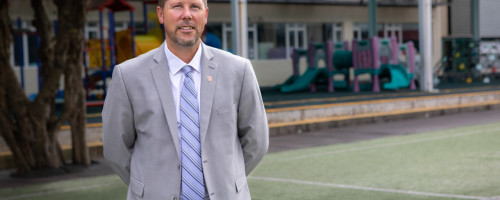 Welcome Letter from Head of School
Welcome back to another school year at TIS Macao!
Our staff have been busy preparing to welcome students back to school, and we are all looking forward to a successful and rewarding 2019-20 school year.
At TIS Macao, we offer a challenging curriculum with both international and multicultural elements. We are accredited by the Education Ministry of Alberta, Canada and our graduates receive a high school diploma that is recognized by all universities. Most of our graduates will receive multiple acceptances to the top universities in the world. Our school follows the Alberta curriculum and the International Baccalaureate (IB) Diploma as a program of choice for high school. The quality of our academic and extra-curricular programs resides in the range and depth of study offerings, and in the personal and professional strength and commitment of our faculty.
Our outstanding staff are dedicated to delivering a rich curriculum and program of activities which challenge our students to problem solve, think critically, and make positive changes in our global community. Whether engaged in learning in the classroom, or through service activities, our students achieve top results, and develop into compassionate young people with strong values, who have a desire to make a positive difference in the world.
It is my belief that school staff, parents, guardians, and volunteers must collaborate as an effective team to create a nurturing environment. I encourage open communication between home and school at all times. If you have a comment, question or concern, please do not hesitate to contact us.
On behalf of the staff at TIS Macao, I extend my wishes for a successful and fulfilling school year.
Mark Lockwood
Head of School