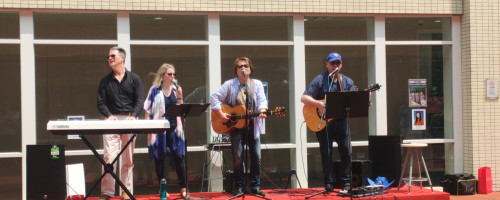 TIS Welcomes Macao Cultural Diversity with Community Day
On Saturday, March 18th, TIS was the place to be as we celebrated our International Community Day. Visitors enjoyed trying diverse cultural foods, participating in workshops, and buying unique handmade crafts! There were also cultural performances that featured dancers, singers and bands that all brought their own cultural flair to the stage.
"𝘉𝘺 𝘦𝘹𝘱𝘰𝘴𝘪𝘯𝘨 𝘰𝘶𝘳 𝘴𝘵𝘶𝘥𝘦𝘯𝘵𝘴 𝘵𝘰 𝘥𝘪𝘧𝘧𝘦𝘳𝘦𝘯𝘵 𝘤𝘶𝘭𝘵𝘶𝘳𝘦𝘴, 𝘸𝘦 𝘩𝘰𝘱𝘦 𝘵𝘰 𝘤𝘳𝘦𝘢𝘵𝘦 𝘢𝘯 𝘶𝘯𝘥𝘦𝘳𝘴𝘵𝘢𝘯𝘥𝘪𝘯𝘨 𝘢𝘯𝘥 𝘢𝘱𝘱𝘳𝘦𝘤𝘪𝘢𝘵𝘪𝘰𝘯 𝘧𝘰𝘳 𝘰𝘵𝘩𝘦𝘳 𝘱𝘦𝘳𝘴𝘱𝘦𝘤𝘵𝘪𝘷𝘦𝘴 𝘢𝘯𝘥 𝘯𝘢𝘵𝘪𝘰𝘯𝘢𝘭𝘪𝘵𝘪𝘦𝘴, 𝘥𝘦𝘷𝘦𝘭𝘰𝘱𝘪𝘯𝘨 𝘤𝘰𝘮𝘱𝘢𝘴𝘴𝘪𝘰𝘯𝘢𝘵𝘦 𝘢𝘯𝘥 𝘰𝘱𝘦𝘯-𝘮𝘪𝘯𝘥𝘦𝘥 𝘪𝘯𝘥𝘪𝘷𝘪𝘥𝘶𝘢𝘭𝘴 𝘵𝘩𝘢𝘵 𝘮𝘢𝘬𝘦 𝘱𝘰𝘴𝘪𝘵𝘪𝘷𝘦 𝘤𝘩𝘢𝘯𝘨𝘦𝘴 𝘪𝘯 𝘰𝘶𝘳 𝘨𝘭𝘰𝘣𝘢𝘭 𝘤𝘰𝘮𝘮𝘶𝘯𝘪𝘵𝘺." - Mr. Lorne Schmidt, Head of School.

The TIS International Community Day was an excellent showcase of the School's commitment to cultural diversity and inclusivity, and providing students with an international worldview. It also posed an important moment to celebrate the rich and multicultural hub that is Macao.
Thank you to everyone who participated in making this event possible. We look forward to more moments where we celebrate the diversity of our community and continue to learn from one another!