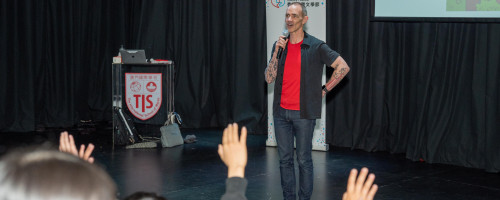 Bestselling Author Andy Griffiths Visits TIS!
TIS focuses on cultivating student's passion for reading, as this is an essential building block for developing and improving English proficiency. It was therefore a day to remember as TIS welcomed Andy Griffiths for an exclusive talk! This was an exciting opportunity for students to meet one of their favourite authors, get insight into the creative process of writing the acclaimed Treehouse series, and have a sneak peek into the new adventures of characters Andy and Terry in the latest book of the series "156-Storey Treehouse".
It was also a very special moment for Isaac and Jon (Grade 5), who got to show Andy their very own book, titled "The Crazy Story of Kebab Man". Andy was instantly impressed with the book and encouraged the boys to keep writing and exploring their craft.
We are pleased to see how worthwhile this experience has been for students, as it is clear that Griffiths' books continue to inspire our young readers. We hope for many more visits that help promote children's literacy and creativity, encouraging them on their chosen pursuits.