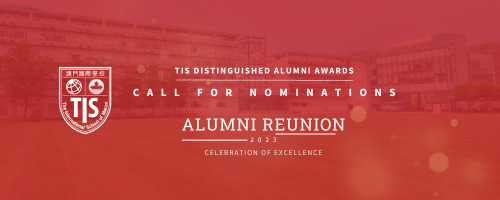 Distinguished Alumni Awards | Call for Nominations
Celebrating the greatness of our graduates
The TIS Distinguished Alumni Awards is an annual event to recognise and celebrate the outstanding achievements of our graduates and pays tribute to the education that sparked their journey.
We invite you to nominate a past student who has attended TIS for at least two years and exemplifies the characteristics aligned with our core values, including: lifelong personal growth, problem solvers, service to others and social responsibility.
Have your say on who you feel should be recognised at the 2023 TIS Distinguished Alumni Awards.
Nominate now by clicking the link bit.ly/TISAlumniAwards
(Nominations are due by: 14 April 2023)
Award Winners will be announced at the 2023 TIS Alumni Reunion on Thursday 8 June.
--
2022 Alumni Award Winners
Academic Excellence Award - Daniel Yan '18
Academic Excellence Award - Luís Ribeiro '08
Local Achievement Award - Charles Leong '20
Local Achievement Award - Sabina Mendes '17