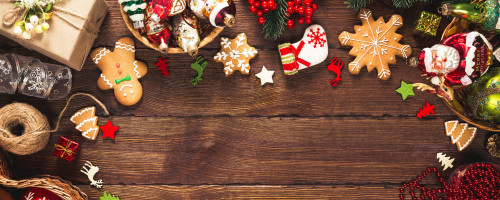 It is hard to believe that Christmas is nearly upon us. Over the next couple of weeks, TIS will be holding lots of events and activities to bring some holiday cheer to end what has been a long and difficult year.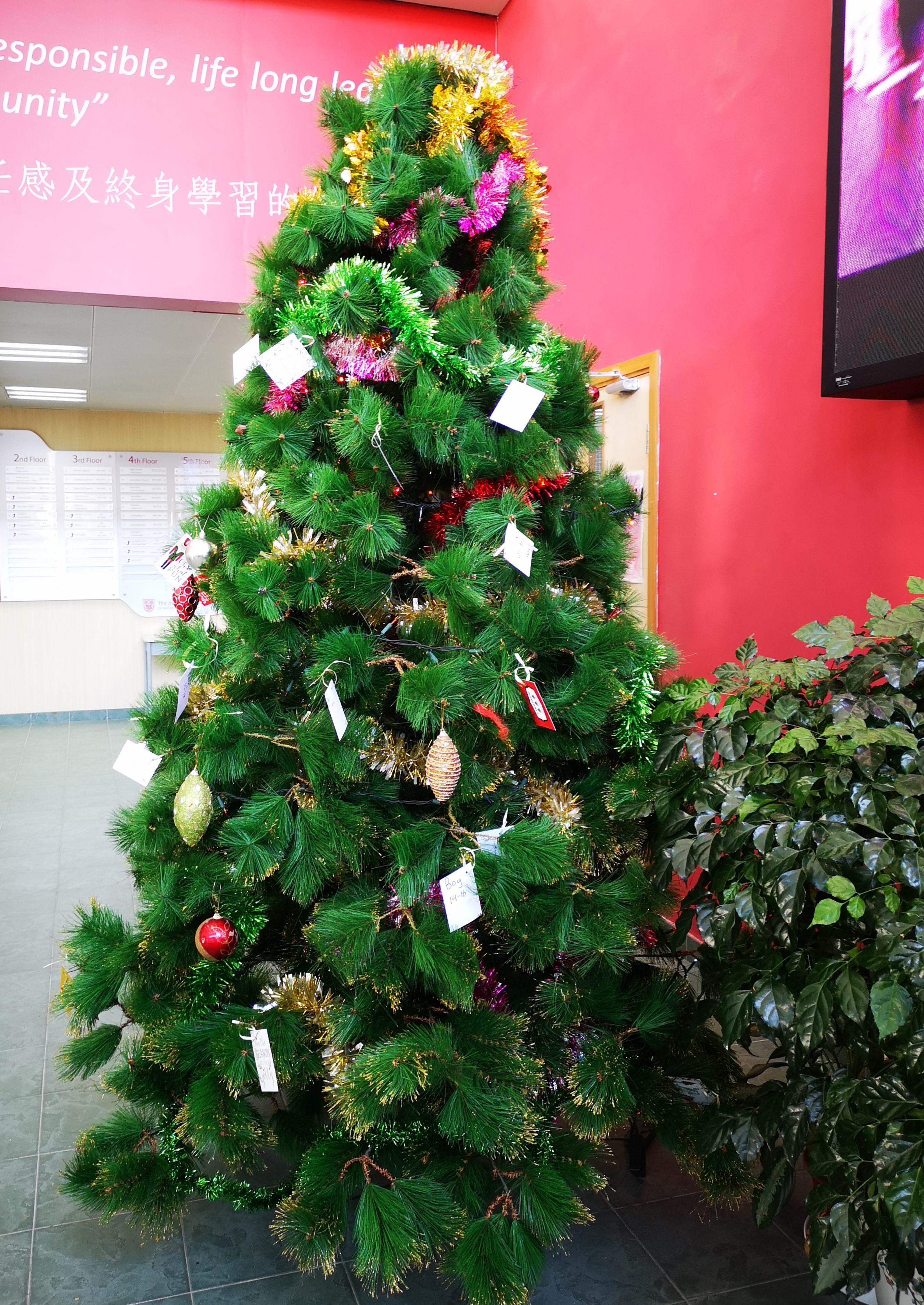 Giving Tree
A beautiful Giving Tree has been decorated in the front foyer of TIS by Ms. Kelsi Olstad and her team of wonderful Elementary Leadership students. They will also be in charge of collecting and organising delivery of the gifts.
This year, there are families in Macau who are going through tough times due to job loss or the effects of the pandemic. It was decided that gifts from The Giving Tree will be given to these children and families in need.
Here's what to do if you would like to contribute to this wonderful cause:
On the Christmas tree you will find tags with a child's age and gender.

Take a tag and buy an appropriate gift, suitable for that child (no food or perishable items please).

Wrap the gift and stick the tag on the present, then place the gift under the tree.

Gifts should cost between 200-300MOP.
The final date for gift collection will be Thursday, December 17 at the Winter Wonderland Event.
Christmas Postcards
High school art students have been busy designing original Christmas postcards in Ms. Dianna Campre's workshop. Students had the choice of working with different mediums with artworks varying in digital designs using programs such as Adobe and Procreate; or more traditional mediums such as coloured pencils, watercolour, and acrylic paint.
Each postcard will cost 20MOP (and they will be accepting MPay!). They will be on sale outside the North Wing office on the 1st floor from December 8 to 11, 2020 before school (8:15-8:45am) and after school (3:45-4:45pm). All proceeds from the sale will be used to buy gifts for the Giving Tree. There are only 8 copies of each design, so come early to buy your favourite designs before they sell out!
These postcards will make a great gift for family members back home (via snail mail) or a secret santa gift. The art students will also host a CNY postcard fundraiser in the new year, so keep your eye out for that.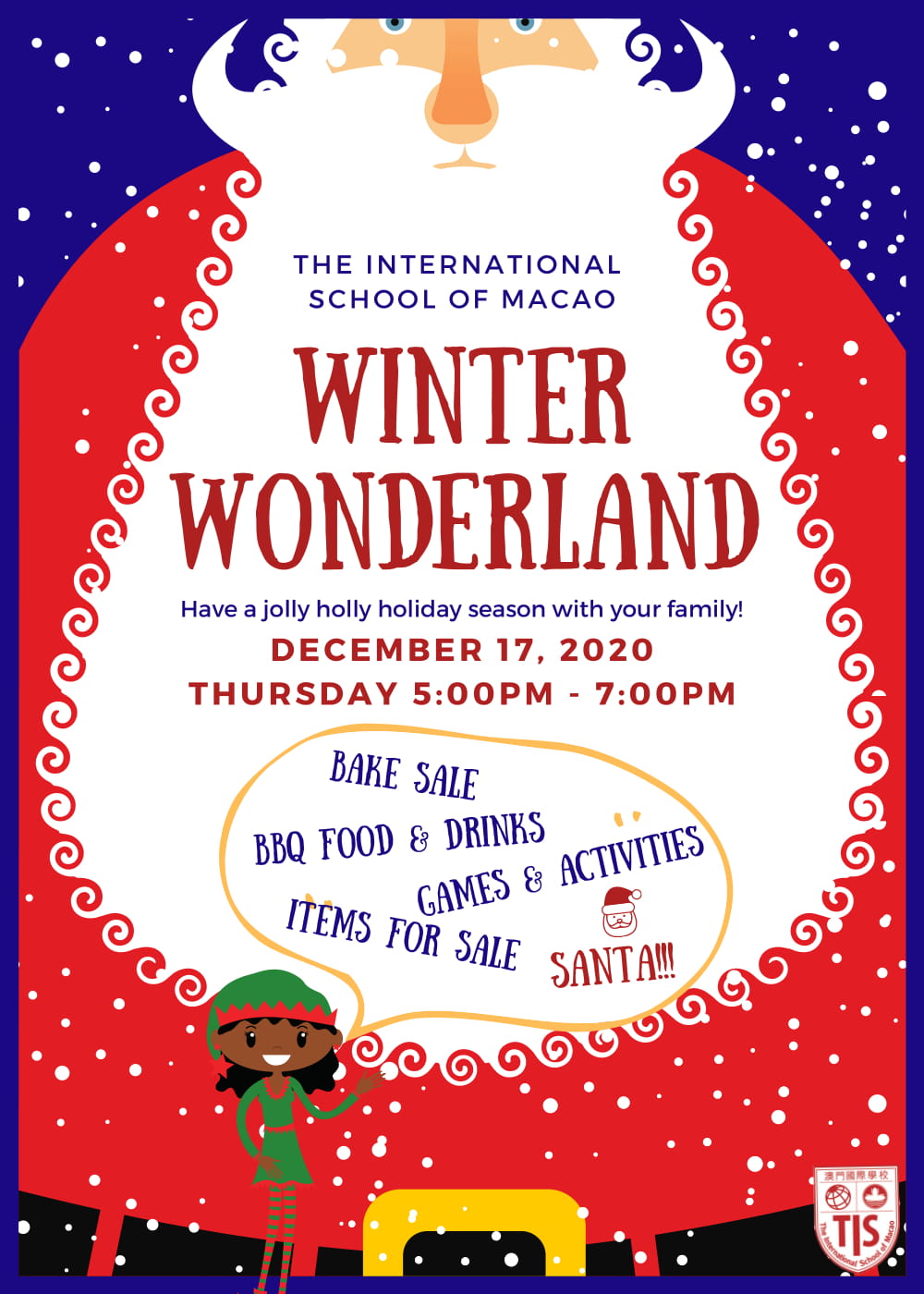 Winter Wonderland
Our annual Winter Wonderland will be held on Thursday, December 17, 5:00pm to 7:00pm. There will be lots of games and activities for young and old. It will be a great chance to buy some unique presents and support local businesses at the Christmas tables. The famous TIS BBQ team will be serving burgers and hotdogs. There will be a lucky draw with amazing raffle prizes. We heard Santa may be making a special appearance too!
TISPA will be holding a Bake Sale table and they are looking for donations of home-made treats. Please contact Mrs. Christine Galle Luczak Tel: 6669 6952 / email: christine@heavensportfolio.com to coordinate donations and drop off. All proceeds from the bake sale will be used to purchase school equipment and inviting guest speakers to enhance the learning experience for our students.