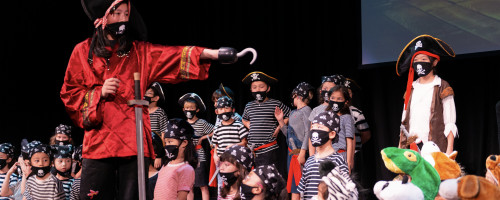 TIS Students Soar in High-Flying Adventure, Peter Pan Jr!
Students from grades 1 to 6 brought a special kind of magic to the Black Box Theatre last weekend with three fantastic performances of Peter Pan Jr., a classic tale full of magic, warmth and adventure.
The play revolves around Peter and his mischievous fairy sidekick, Tinkerbell, who visit the nursery of the Darling children late one night and, with a sprinkle of pixie dust, begin a magical journey across the stars that none of them will ever forget. In the adventure of a lifetime, the travelers come face to face with a ticking crocodile, the fierce Brave Girls, a band of bungling pirates and, of course, the villainous Captain Hook.
Congratulations to the entire cast and crew who put in hours of rehearsals over the past few months under the guidance of Music Teacher Mrs Stribbell. Many thanks to Mr Chignall and Mrs Schmidt for their help and assistance with the event.