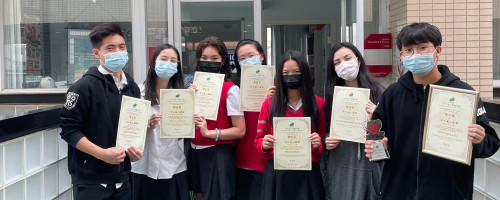 2021 DSEDJ Volunteer Awards
Congratulations to the following students who were nominated for the 2021 DSEDJ Volunteer awards. The ceremony was held on April 10th, at Saint Paul school, Macau where the students were presented with their awards.. These seven students are to be commended for devoting their time and effort to the community and the school.
Ngo Laam (10-2) - Gold Award & Platinum Award
Kellie (12-3) - Silver Award
Norah (12-4) - Bronze Award
Jerry (12-4) - Bronze Award
Nicole (12-3) - Bronze Award
Chloe (11-1)- Bronze Award
Valeria (10-1) - Bronze Award

To achieve the gold award, students must provide 300+ volunteer hours, silver 200+ volunteer hours, and bronze 100+ volunteer hours to the school and the community in a variety of ways, such as volunteering in different areas, planning activities to promote wellness and inclusiveness.
In addition to receiving the gold award, Ngo Laam and his sister Sariputra (Class of 2020) earned acclamations for achieving the coveted platinum award which is presented to students who have achieved 300+ hours in a year for two continuous years.