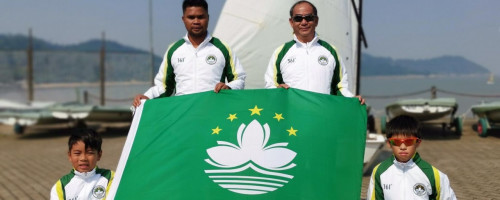 TIS Student Represents Macao in Oman Sailing Championships
During September 30th to October 7th, 141 young sailors from 21 countries took to the waters at Al-Mussanah Sports City in Oman as part in the 2019 Optimist Asia and Oceanian Championships. Amongst the world class youth sailors was TIS' Hayden Fung (Grade 5) who was chosen to represent Macao in the sailing competition which showcases the International Optimist Dinghy Association (IODA).
After the spectacular Arabian night themed opening ceremony, a full series of ten races were completed in five days. The conditions were good with wind speeds of 10-15 knots and high temperatures of 39 degrees.The defending champions from Thailand took 1st and 2nd place with Brazil taking 3rd in the overall championship. Although Hayden did not place on the podium, he did his team and Macao proud, coming in 59th overall in the silver fleet.
On the final day of the tour, Hayden confidently gave four interviews with the media in Oman and exchanged gifts with sailors from the other countries. He gained sailing skills and many new friendships from his tour.
Hayden will be participating in the upcoming HKODA National Regatta in Hong Kong from October 17th to 20th. We wish Hayden the best of luck in his next competition and future sailing career!