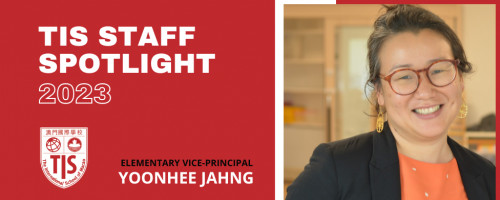 TIS Staff Spotlight: Yoonhee Jahng
Get to know your Elementary Vice-Principal Ms. Jahng!
Ms. Yoonhee Jahng started her journey as an educator by running public and school programs at various museums in Vancouver, Canada. Her teaching experiences range from working with preschool to middle school students in Calgary, Colombia, Japan, and in Korea. In addition to Alberta Education, Ms. Jahng is familiar with Common Core, Montessori, IB PYP, and Spanish and English bilingual curricula from her 15 years as a teacher and through various school leadership roles. She is certified with the Alberta Education Leadership Qualification Standards with a specialisation in School Leadership and English as Additional Language (M. Ed.) through the University of Calgary. She is passionate about authentic learning experiences, supporting individual capacity, and building a collaborative organisation culture. As a lifelong learner and traveller, Yoonhee is excited to continue to learn Chinese, and to get to know Macau and the surrounding area. During her free time, Yoonhee enjoys hiking, snack-related conversations, and playing with her puppy, Bobo.
What inspired you to become a teacher, and how did you get started in the field?
I worked with children for a long time, as a museum educator, birthday party host, and even a face-painter in my teens and twenties. I realized that the one thing that was missing was building a relationship with these great kids that I interacted with. So I went back to school, and got my Bachelor's Degree in Education at University of Calgary in 2007.
What are some of the most important values or principles that guide your approach to teaching?
Relationships first! It's important that we get to know our students as human beings, then approach teaching and learning once we have that foundation. This philosophy also applies to how we approach colleagues, parents, and even those in our community.
I also believe that everyone has the potential to grow. With our varied backgrounds and experiences, we have different starting points. Both students and teachers can change, grow, and be successful, and it's my job to support them to do so.

What do you think sets TIS apart from other schools, and what drew you to this particular community?
I appreciate that TIS is community-oriented. Everyone is friendly, and is very invested in this community to make positive differences. In addition, I believe that our teachers are very dedicated to our students and learning, and bring fantastic skill sets and expertise that enrich our learning community. I really like the collaborative attitude at all levels of the school, and how everyone works together to approach problems with creative solutions. I know that things get busy with all the people on campus, but I actually like the dynamic energy and synergetic changes that come from that.

What are some of your favourite things about teaching, and what do you find most challenging?
I love teaching literacy, open-ended math problems, and inquiry-based learning with real-life applications. In particular, I love seeing how students grow over time, as they develop their interest and skills in various concepts. I think the biggest challenge I faced as a teacher was never seeming to have enough time and resources. It wasn't a matter of a poor timetable or lack of materials, but just a perception of wanting to do more and better for each child, and with each learning experience. Our role as educators are very personal to us, so we take it very seriously.
What are some of your hobbies or interests outside of teaching, and how do you think they inform your approach to education?
I am a life-long learner, and like learning new skills. These days, I am enjoying cooking with local ingredients, exploring Macau/Hong Kong, and learning Chinese. I'm also looking forward to hiking and other outdoor activities, once the weather cools off.
I am also a very curious person by nature, so I love to travel and explore so that I can gain new experiences. Likewise, I think that providing opportunities for our students to develop their personal interests and passion is also important. Just like it's important for adults to have a work-life balance, it's also important for young kids to explore and learn new things, rather than only focusing on academics. So I really appreciate the variety of TIS programs that offer student choice and voice!
What message would you like to share with parents and students who are looking forward to having you as their Elementary Vice-Principal at TIS?
Thank you so much for your warm welcome so far. I feel so lucky to be here, and am looking forward to getting to know you. I will do my best to support our students in their journeys in learning, and our teachers to grow as professionals. Thank you! 감사합니다! Gracias!