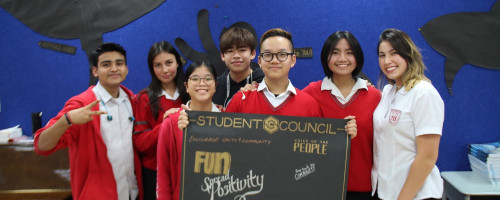 A Quick Introduction To The 2019-20 High School Student Council Executive Team
Article and photos by Howard Tong, Grade 12
Elected back in June during the previous academic year, this year's student council is excited to make the school year a little more enjoyable for their fellow students through their monthly events and activities. Each executive has written a short introduction about themselves for the TIS community:
President: Ana Meryll Sto. Domingo Marin
My name is Ana Marin and I am Student Council president. I spearhead the executive team and I lead our council throughout meetings and events. Everyone knows that high school is one of the most stressful times of our lives. Piles of homework, tests, and no sleep is a notorious cocktail in high school. It is because of this I made my main mission as Student Council president to try to make the student body's lives at school more stress-free and enjoyable through our events and activities.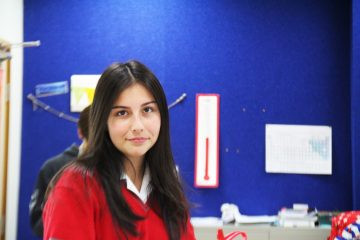 Vice President: Melissa Marie Ritchie Acconci
Hi everyone! I am Melissa Ritchie Acconci, your proud Vice President of this year's Student Council. As your Vice President, it is my job to help out with everything that goes on within the Student Council. Not only do I help the President when the workload gets overwhelming, I also help come up with innovative ideas as well as plan and execute upcoming events. Being part of the Student Council has taught me how important it is to maintain a strong community and welcoming environment, and it is because of this that I make it my goal to try to make this year as enjoyable and student-driven as possible!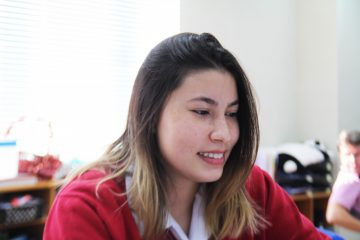 Secretary: Sarah Guimond
Hi! My name is Sarah Guimond, and I am this year's Student Council Secretary. I'm in charge of organizing and preparing the planning of meetings or events. It is also my job to take minutes during meetings. I think what makes me a great secretary is that I'm always planning ahead of time and I am great at organizing. I am most looking forward to planning yet another successful Benefit Concert; I think my organizing skills will come in handy at hosting big school events like this.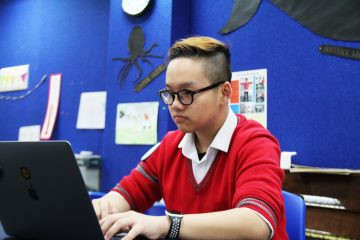 Tech Coordinator: Jimmy Kuan
I'm Jimmy Kuan, and I'm this year's Student Council Technology Coordinator. I'm mainly in charge of creating Student Council-related promotional materials and maintaining the general "aesthetic" of the Student Council. I also maintain the various hardware required for the events we do and ensure that everything functions properly. This is my second year in the Student Council, I will strive and continue to maintain the quality of my work to the best of my abilities.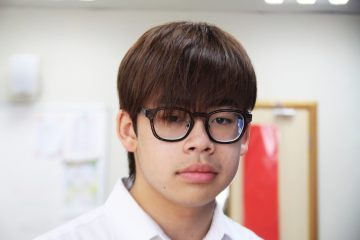 Public Relations Manager: Benedicte Bunjamin
Hi, I'm Benedicte Bunjamin. I'm the Public Relations Manager for the Student Council. My job as the Public Relations Manager is to manage our social media accounts, such as Instagram, Twitter, and Snapchat. We use each platform to forward announcements and post teasers/trailers for upcoming events. I keep all students in Division 4 up to date with dress down day dates, school events that we host, and other activities that we may plan. This is my first year as an executive and I look forward to the new experiences I will encounter along the way.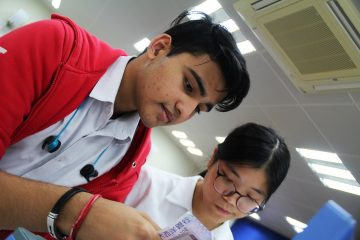 Treasurers: Callis Wong and Avinash Givane
Hello everyone. My name is Callis Wong, and I am one of this year's two treasurers. I, along with my fellow treasurer Avinash Givane, we run the food cart, manage Student Council funds and treasury, and determine budgets for school events. The treasury is an integral part of the Student Council. If we had no money, we wouldn't be able to hold events such as the Halloween Festival or the Benefit Concert.
The aforementioned Halloween Festival will take place on October 25th from 5:30pm to 7:30pm, with lots of activities such as Mummy Bowling, Face Painting and even a stall where you can throw sponges at teachers! The Student Council high encourages all students to come along with their parents for a night of Halloween themed fun.