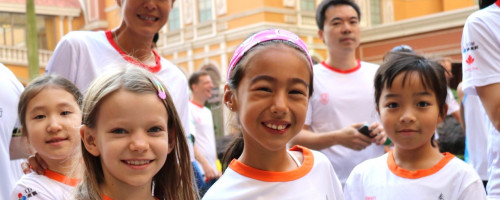 Run of Hope Continued Success
It was a beautiful sunny autumn day for the annual Run of Hope Charity on Sunday, November 10. Over 300 people participated in the annual charity fundraiser organised by Four Seasons Hotel Macao, now in its 11th year and which TIS has been a partner for the past 7 years. Inspired by Canadian athlete, Terry Fox, the Run of Hope is an event that brings together the TIS community in many ways, whether through participation, sponsorship or volunteering.
Each year the event poster is designed by our very talented multi-media students. This year the winning design was a team effort by Grade 12 students Owen, Jack and Luis. Late last month, the boys were invited to take part in a local TV and radio program to promote the event. They all spoke eloquently and represented the School with pride. Click here to watch/listen to the interviews : TV Program "Good Morning Macau" ; TDM Radio Program
Our middle school leadership team took on the job as children entertainers by keeping the little ones busy with fun and games, whilst our TIS Volunteer team acted as human arrows directing runners and walkers around the course.
The event was well attended by TIS staff, students, and their families. Mr. Nick Chignall and Ms. Caitlin Bass held onto their reigns as fastest male and female runners.
We would like to thank our vendors who continue to support Run of Hope every year by donating generously to this great cause. Thank you to Future Bright Group, Ming Shun Construction and Property Investment Ltd, Kit Pou Cleaning Company, Chong Ou Travel Agency Ltd and Luen Fung Hang Insurance Company Ltd.
Proceeds will be donated to the Kiang Wu Cancer Department and the China Evangeline Fellowship Orphanage in Macao.