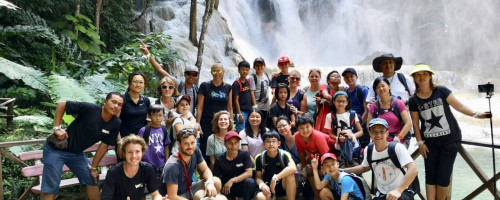 Giving Back-Laos Family Service Trip
We were from 11 different countries and speak 8 different languages-but during our service trip we came together for a common purpose-to work toward finishing a dormitory for the little village of Ban Nong Jong in Laos. Once finished, this dorm will house 50 students who would otherwise have to travel up to 10 km on foot to school each day.
Even though we were giving back to their community-they gave us so much more.
They gave us an understanding of how truly fortunate we all are. With no running water, the villagers use buckets of freezing cold rain water as their shower. We will never take a hot shower for granted again.
They gave us delicious food cooked over the open fires in their kitchens-no one had stoves or ovens-so every morning they had to wake up early to start a fire so that they could cook breakfast for us. Their generosity was overwhelming.
They gave us an understanding of what Animism is and shared their spiritual beliefs with us. We even visited an 80 year old shaman in her home and she taught us all about their beliefs and how she helps the villagers when they are ill. We participated in a very special Baci Ceremony and it filled our spiritual buckets.
They shared all of their creatures with us and we were kept on our toes as we watched for rats, spiders, and scorpions when using the bathroom, working at the work site, or walking through the jungle.
They shared some of their favourite games with us (and then their teachers taught the adults from TIS a game similar to bocce ball and proceeded to beat us in every single game).
They shared their beautiful landscape and we enjoyed floating down the Mekong, hiking in the jungle, and swimming in a waterfall.
They shared their slow paced and laid back way of living with us and we were all reminded to relax and enjoy every minute of this life.
In all, it was an amazing week and we are all better from this experience and all of the discomfort we felt was most certainly worthwhile. We are hopeful that even more families will join one of our TIS Family Service Trips next year!