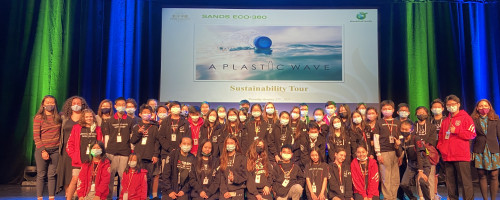 Environmental Awareness Summit 2021
The 2nd Annual Environmental Awareness Summit for our leadership students from grades 7-12 took place on Thursday, January 21st, 2021.
The summit was held at The Venetian Macao and TIS. The day began with a visit to The Venetian Macao to get an understanding of what environmental initiatives the resort focuses on and how they use many innovative technological advancements to reduce their environmental impact on Macau. The students attended an informative presentation by the Sustainability Department Team followed by an extensive tour and finally a viewing of the documentary called "The Plastic Wave".
Afterward, the students returned to TIS to take part in planting activities organised by Mr. Boyko and Ms. Mak. The summit ended with making healthy protein balls and fresh fruit and vegetable smoothies with Mrs. Brockbank and Ms. Wu, the grade 11 co-leads for the middle school leadership program.
It was a very successful event enjoyed by the students. This program maintains the School's commitment in ensuring the students know the importance of implementing sustainable practices to protect our environment, while developing their leadership capacity at the same time.