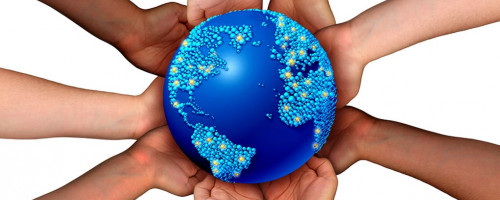 Educating for Global Competence
A term that is being used more and more often today in education is 'Global Competence' or 'Global Competencies'. Global competence is a term that refers to the knowledge, skills, and other capacities used to examine, appreciate, understand, and use local, national, and international elements to navigate the world successfully (OECD, 2015). Educators, parents, administrators, curriculum designers, businesses and other stakeholders are asking if our schools are teaching the right skills, knowledge, values, and attitudes that prepare young people to thrive in a more diverse, interconnected world? In a rapidly changing world, the ability to be engaged citizens and collaborative problem solvers who are ready for the workforce is essential. It is not an easy task to operationalize this big idea, especially when building competence is a journey, not an endpoint. It is an ongoing process that evolves as we engage in learning throughout our lives- not a checklist or a destination.
TIS Mission
I hope that this description of global competency looks familiar to our school community. There is a straight line between it and the mission and vision of TIS; to develop socially responsible, life long learners able to problem solve, think critically, and make positive changes in our global community. And our programming both inside and outside of the classroom keeps this focus at the centre of our work with students.
Global Competence Core Concepts
As educators, we have a very important role in preparing and equipping our students with the skills and knowledge for a rapidly changing world. But for our youngest students, the fundamentals of literacy and numeracy are foundational to the competencies demanded of our graduates. We are early into the twenty first century, where twentieth-century assumptions about the world are rapidly becoming obsolete. Globalization, the digital revolution, mass migration, and the prospect of climate instability are triggering new concerns and demands. At the dawn of the 21st century we are recasting our understanding of economics, communication, security, cultural identity, citizenship, and the environment. In the 21st century, all people will need to be engaged citizens, to be prepared for the jobs of the future, and to be local and global problem solvers.
The UN's Organization for Economic Cooperation and Development (OECD) emphasizes that "our education systems and schools need to be responsive and proactive in order for our children to benefit." And these core concepts will frame our understanding and assumptions of what the world is and will be: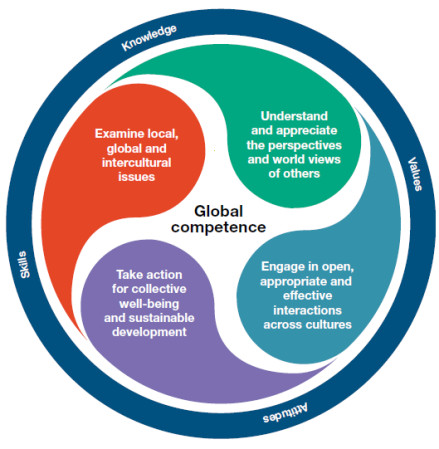 We are Connected

World events and global issues are complex and interdependent.

Our Stories Matter

One's own culture and history is key to understanding one's relationship to others.

It's Complex

Multiple conditions fundamentally affect diverse global forces, events, conditions, and issues.

History Matters

The current world system is shaped by historical forces.
In conclusion, the term 'global competence' is one that we will continue to hear about and the knowledge and skills within it are the ones we should strive for as an educational system. Developing global competencies within our students, and staff, is a journey that is exciting, interesting, and most importantly, necessary. It's about preparing for the future, while living in the present, and learning from the past.