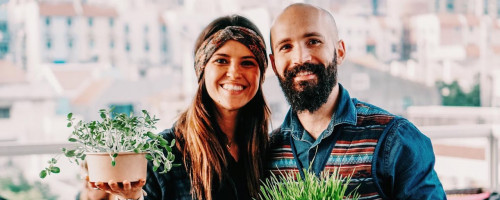 Activist in Residence Program To Feature Local Environmental Educators
TIS is excited to announce that three local experts will be this year's Activists in Residence.
Urban farmers and environmental educators Cintia Milk and Guilherme Martins from Mighty Greens will be at TIS on November 16, 17 & 19 to show our students the benefits of urban farming and how to grow their very own microgreens!
TIS will also be welcoming Alyson Lundstrom from The Blissful Carrot, a popular vegetarian restaurant in Macau. Alyson promotes sustainability and eco-living through her business and other initiatives related to conscious living and food education. Alyson will be teaching TIS students about sustainable food choices and showing them how to prepare healthy food.
2020 marks the third year of the annual Activist in Residence program which aims to bring to life TIS' mission "to develop socially responsible, lifelong learners able to problem solve, think critically, and make positive changes in our global community" by giving students access to experts from the field of activism.
This year's program will be focusing on United Nations Sustainability Goal 12: Responsible Consumption and Production. Our activists in residence will be posing the question, "How can food production and consumption impact sustainability?
Cintia and Guilherme will be working with Kindergarten students to create their own garden in the outdoor classroom. Meanwhile, elementary activities will include hands-on planting of microgreens on TIS' rooftop garden, learning about urban farming projects in Macau and permaculture, as well as learning about composting techniques to help nourish plants. High school students will also enjoy an in-class video presentation and some hands-on microgreen planting.
From November 30 to December 4, Alyson will be at TIS to raise awareness about the environmental impacts of food choices. She will be helping students to make mini pizzas and smoothies using their homegrown microgreens as ingredients and garnishes.
This year's activist program aims to educate our students on how food is more than something you purchase at the supermarket. They will learn first hand the "farm to table" concept and how to be conscious and healthy food consumers.