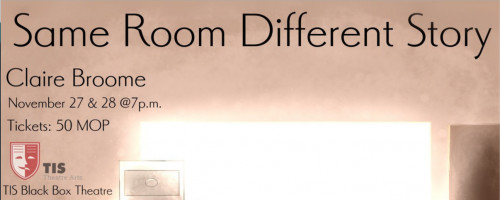 TIS Theatre Arts Fall Production 2020 - Same Room, Different Story
The TIS Theatre Arts (previously known as TIS Secondary Players) will present their fall production of Same Room, Different Story by Claire Broome on November 27 & 28 at 7pm in the Blackbox Theatre.
A teenager's bedroom is important. It's a place to hide, to consider choices, to reveal - and sometimes, it's a place to practice the periodic table. Stories can be found under the bed, in a suitcase, in a box that may or may not hold body parts..... This vignette play explores relationships and situations that speak to today's teens in a variety of genres.
Due to COVID protection measures, tickets are limited as there will be alternate seating. Tickets can be purchased in advance during Secondary Lunch on the South Wing 5th Floor starting from Friday 6th November, or at the door on the night of the performances.