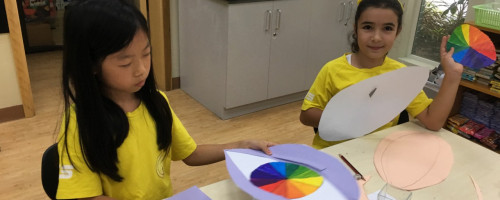 15 Ideas for Budding Student Artists
By Shelley SmithDale, Arts Coordinator
1. Let go of your idea of "perfect." Step back and realize it is just a project and not the end of the world if it's not perfect.
2. Allow yourself to have fun!
3. Don't be afraid to silence your inner critic. We can be our own worst enemies. Not the work.
4. Realize that you can be your own worst enemy.
5. When in doubt, ask for help.
6. An artist cannot fail. It is a process and continues to evolve.
7. Establish your "me" time. Life is busy, so make the time.
8. Don't be afraid to alter your process, or change your medium.
9. Listen to critique. You just can't take offense at what others think.
10. Let yourself be impulsive!
11. Be prepared to find inspiration in everyday things and places.
12. To clear your mind, you need to clear your work space.
13. Find another perspective. That's when turning the painting upside down, or looking at it in a mirror, is a good trick.
14. Failure is only one moment before success. Remain open to taking risks in the work because failure can often lead to something amazing.
15. Sometimes, there won't be a "finished product." And that's ok.