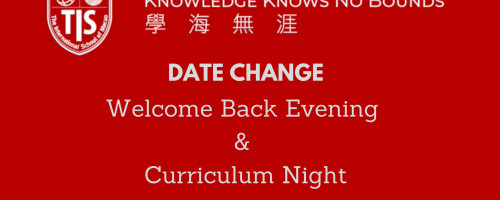 Welcome Back Evening & Curriculum Night
Dear Parents,
It has been a smooth start to the new school year. Over the past week, it has been lovely to see so many familiar faces and also welcome new families to our TIS community.
You may have noticed on the school calendar that we had originally planned to hold our annual Welcome Back Evening on the same date as our Curriculum Night, and Mid Autumn Festival in the following fortnight. Given the current situation and the size of our school, we cannot hold three events at the same time, however we would still like to connect with our families so are hosting a Welcome Back Family Social as a separate event which will allow us an opportunity to meet on a more relaxed occasion over some food and drinks. This will be held outdoors on the front field to provide more spacing. Whilst we will not be holding our annual Mid Autumn Festival, we will still be celebrating the festival within our classrooms and the occasion will be marked with the usual hanging of lanterns around the school to be admired on Curriculum Night. We invite you to join us at the two upcoming evenings - a separate letter will follow with full details of the events:
Thursday, September 10, 2020 - Welcome Back Evening - 5:00pm to 7:00pm

Thursday, September 24, 2020 - Curriculum Night - Time (to be confirmed)
We highly encourage you to be involved with your child's education throughout the year and to keep communication lines open. There will be many opportunities for you to be involved directly, for example, by joining the Parent's Association, taking on a parent representative role for a class, volunteering for special school or grade events, or by assisting with off-campus excursions.
We look forward to a productive and enjoyable academic year and in working together with you to provide an excellent educational experience for your child. As always, feel free to contact us if you have any questions or concerns about your child's educational experience at TIS.
Best wishes to you all,
Mary-Anne Jasinski (Primary School Principal) / Lorne Schmidt (Secondary School Principal)

歡聚晚會及課程講解會
致親愛的家長:
新學年開學十分順利,在過去的一週,我們很高興能再次見到這麼多熟悉的面孔,同時亦歡迎新生加入澳門國際學校大家庭。
或許您已經留意到校曆表上原定在同一天舉行歡聚晚會及課程講解會,而兩週後則是慶祝中秋節活動。然而,鋻於目前情況及學校規模,我們無法在短時間內同時安排三個聚會。即便如此,學校依然希望在戶外空曠的草地位置舉辦歡聚晚會,讓學校與家長有機會見面聊天,一同享受美食。至於中秋節慶祝活動,雖然今年暫不舉辦,但老師仍然會在課室與學生一同慶祝,並在課程講解會當日,學校會在各處掛上燈籠,增添節日氣氛。學校現誠邀您參加即將舉辦的兩個活動,稍後會發出活動詳情:
2020年9月10日(週四) - 歡聚晚會 - 下午5時至7時

2020年9月24日(週四) - 課程講解會 - 時間待定
學校鼓勵家長全年度參與孩子的教育,並保持良好的家校溝通。學校提供許多機會讓家長參與,如加入家長會、參與班級活動、為特殊學校及年級活動當義工以及協助校外旅程等。
澳門國際學校期待一個精彩及愉快的學年,並能與您為孩子提供良好的教育體驗。若您對於孩子在校生活有任何疑問,歡迎隨時與我們聯絡。
致予真挚的祝福,
Mary-Anne Jasinski(小學部校長) Lorne Schmidt(中學部校長)