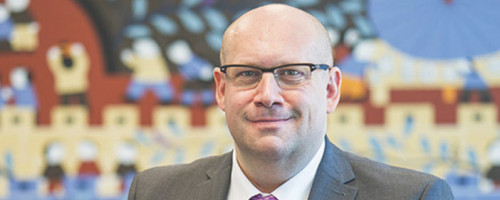 TIS Names New Head of School
Following a comprehensive search, the TIS Board of Directors is pleased to announce that Mr Patrick Hurworth will be the new Head of School starting in August 2021. He brings more than 25 years of experience and leadership expertise in international education.
"That the community has asked me to lead TIS from 2021 is humbling and very exciting," says Patrick, adding, "I can't wait to work with the community to ensure that TIS moves toward the future confidently and with high quality learning for all."
Patrick grew up in the UK, where he began his career as a Geography teacher. He moved to international teaching in 1996 and served as Head of Department at the International School of Geneva. His next overseas role in 2002 took him to Atlanta International School in the United States. During his 12 years in Atlanta (a period during which he became a US citizen), Patrick took on the roles of teacher, High School Principal and Secondary School Principal.
In 2014, Patrick and his family moved to Hong Kong, where he assumed the role of High School Principal at Hong Kong International School. Patrick and his team spearheaded changes to grading, assessment and reporting, introduced classes in Design, Robotics and Technology, and initiated large-scale renovations of the learning spaces. In 2017, Patrick was invited to serve as Head of School at the International School of Beijing. ISB celebrated 40 years this year and serves more than 1800 students. Under his leadership, ISB reviewed and refreshed its Mission, Vision and Values, completed four major construction projects, reviewed its approach to professional learning for teachers and begun an intensive learning needs program.
Patrick and his wife Karen (a teacher, counselor and US citizen) are very excited about becoming members of the TIS community and are looking forward to immersing themselves in the school culture, Macau and all the region has to offer. They are sure their two adult children (Daniel 22 and Ella, 20) will visit frequently. His family has happy memories of times spent visiting Macau, enjoying its ambiance, history, shopping and the fantastic food!
"I visited TIS in February of 2018 when it held the ACAMIS conference. I was struck by the warmth and intimacy of the school. It felt like the type of school I would enjoy being part of," says Patrick.
Interim Head of School Howard Stribbell spoke to Patrick this week about his new role at TIS and his hopes for the future of the school.
經過嚴謹遴選,澳門國際學校董事會很高興宣佈Mr Patrick Hurworth先生將於2021年8月開始接任新校長。 Mr Patrick Hurworth先生在國際教育領域中擁有超過25年的豐富經驗及領導才能。
「當接到澳門國際學校邀請我於2021年出任學校負責人一職時,我感到既興奮又受寵若驚。」Patrick補充道:「我已經迫不及待想與澳門國際學校合作,讓學校繼續自信地以高質量的教育為基礎展望未來,傲視同儕。」
Patrick出生在英國,並在當地開始了他的地理老師教學生涯。1996年,他開始從事國際教學工作,任職日內瓦國際學校部門主管。2002年,他前往美國亞特蘭大國際學校任職。在亞特蘭大的12年期間(期間他取得美國公民身份)」Patrick先後擔任過老師、初中部校長以及高中部校長。
2014年,Patrick與家人一同搬到香港,期間他擔任了香港國際學校的高中校長。Patrick與他的團隊率先對評分、評估和報告進行了革新,引入了設計、機械以及科技課程,並開始對學習空間進行大規模整修。2017年,Patrick獲邀擔任北京國際學校(下稱ISB)校長。今年是ISB成立的40週年,學生人數超過1800人。在他的領導下,ISB檢討和更新了學校使命、抱負以及價值觀,先後完成四項大型建設項目,檢討了針對老師的專業學習方法,並開始推行強化學習的需求計劃。
Patrick與太太Karen(老師、顧問以及美國公民)對於能加入澳門國際學校大家庭感到十分興奮,很期待能融入本地學校、澳門以及整個社區的文化中。夫婦二人相信他們兩名孩子(22歲的Daniel以及20歲的Ella)會經常到訪澳門。他們一家過去曾來過澳門,渡過了一段美好的時光,很享受這裡優美的環境、文化歷史、甚至是購物樂和美食!
Patrick表示:「我2018年2月份曾到澳門國際學校參加『中蒙國際學校協會』活動,當時的我被這所學校的溫暖和親切深深打動,覺得這是我喜歡的學校。」
學校負責人Mr Howard Stribbell本週已向Patrick談論了他將在澳門國際學校的新角色以及學校未來的展望。
A chat with Mr. Patrick Hurworth