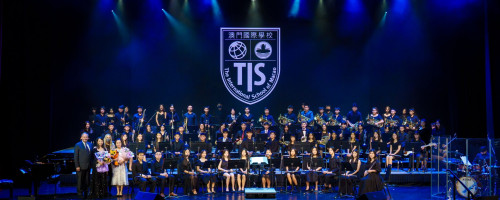 The International School of Macao (TIS) held the annual Winter Concert on the evening of the 13th of January 2023, where 75 secondary music students performed at the 1,200-seat Parisian Macao Theatre.
The grand concert commenced with an opening act from the brass quintet with their performance of Norwegian composer Edvard Grieg's In the Hall of The Mountain King.
This was followed by performances from various ensembles, including the flute choir, the woodwind quintet, clarinet ensemble and the jazz and rock bands. The show also featured five solo acts that included singers, pianists, flautists and violinists. Under the careful guidance of secondary music teacher Ms. Chu, the students showcased their talents and enchanted the 200 spectators in attendance.
Finally, the TIS Symphonic Band brought the concert to an elegante close, performing the renowned Symphony No. 9 by Czech composer Antonin Dvorak and bringing the audience to a thunderous applause.
"Diverse teaching is one of TIS's many characteristics. With an abundance of educational resources, rich extracurricular activities, creative and versatile teachers, students can thrive in all aspects of life. In addition to the core curriculum, students will participate in sports, arts, music, Mandarin and other courses. This allows for the acquisition and proficiency of skills that are essential for personal growth" - Head of School, Mr. Lorne Schmidt