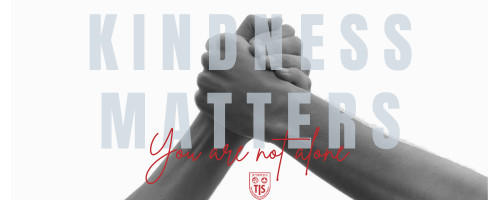 Whether it's an African proverb or an Indigenous people of Americas story, the words "it takes a village to raise a child" is more accurate than ever before. Our children have much to contend with; the media, peer pressure and pressure from parents to consistently produce high academic results at school. Not to mention the impact of COVID halting any future plans. It's no wonder that childhood depression and anxiety, usually associated with Western countries, is now visible amongst adolescents here in Macau.
It seems that the importance of a wider communal society where our children feel safe to experience life lessons and learn skills that assist them to effectively interact with the world around them is necessary.

This is one of the reasons why TIS has included positive education into its curriculum, that has been specifically designed to assist with improving our children's well-being so that they can develop lifelong toolkits for success. At TIS, we have acknowledged that the power of positivity may have the ability to change the way our students see the complex world in which they now find themselves.
The COVID-19 pandemic has been a massive challenge for the global community. Mental health awareness increased before the pandemic, but the focus has intensified since the outbreak, and understandably so. The curriculum tackles topics such as resilience, mindsets, motivation, decision making, goal orientation and positivity, which may not be directly taught through classroom subjects but are undoubtedly essential to success in these times.
Introducing PEEC
Known as Positive, Education, Enhanced Curriculum (PEEC), these additions are designed to create a safe environment for our students to flourish.
In a nutshell, it combines traditional education principles with the study of happiness and well-being. Based on over 10 years of research, the program commences from Grade 7 through to Grade 12. The main focus is on teaching students critical concepts of well-being to live healthy and fulfilling lives.
This, to some, may seem a little fanciful. Still, according to Waters, "A school curriculum that incorporates well-being will ideally prevent depression, increase life satisfaction, encourage social responsibility, promote creativity, foster learning, and even enhance academic achievement" (Waters, 2014).
Designed in conjunction with world-renowned researchers in the field of positive psychology and tested in schools throughout the world, the benefits of this curriculum impact not only students but also teachers.
The framework of PEEC incorporates focusing on principles such as positive emotions like gratitude and hope plus learning to create positive relationships with parents, teachers, peers and the wider community.
Student engagement is also essential as children become fully absorbed in activities that develop their skills and challenge them. They are taught how to strive to achieve and feel connected to and belonging to something bigger than themselves.
The Benefits For Teachers And Students
Teaching students to be responsible for their own happiness has been shown to build resilience, optimise engagement, and improve academic performance. Other positive outcomes include less depression amongst teens and increasing motivation.
Positive education also has benefits for teachers. From creating a school culture that is caring and trusting to preventing problem behaviour and better teacher/student relationships. Recent research suggests that better teacher-student relationships may lead to better student academic performance as well.
PEEC Around The World
There is a growing group of countries that are incorporating the PEEC method. For example, in Australia, at Geelong Grammar School, PEEC is incorporated into every subject using the principle that students function ideally when they are happy. At the heart of this model is teaching students to flourish to be confident and productive young adults.
Israel is another adopter of the positive education principle. Under the Maytiv Positive Education Program, there have been convincing results like enhanced student confidence, positive emotions, a feeling of school belongingness, and improvements in the quantity and quality of peer friendships.
As a result of a census on student well-being in Dubai, several schools have adopted positive education principles, even establishing a wellness department.
Mexico has also adopted positive education principles through a wellness curriculum that positively impacts academic performance, student connectedness, perseverance, and engagement.
With positive outcomes such as these being reported, it is exciting that we can bring this to our students. The PEEC curriculum also adds to the TIS advantage where we focus on a holistic approach to education, developing the whole child (see diagram below). We are optimistic that introducing the PEEC curriculum will help TIS become a more safe, caring and secure environment for our students, which will, in turn, have a positive effect on the other components of the TIS advantage.
It appears that the PEEC program will be a win-win for students, teachers and parents, providing skills that can lead to creating strong, resilient young people with high performing leadership skills and better mental health. With the state of the world today, investing in actively teaching young adults to handle these problems effectively & providing them with a "toolkit for life" may be the best remedy we as educators and parents can provide.

*If you are interested in reading about PEEC & viewing the curriculum topics, please check the go to the website by clicking here https://teachpeec.com/curriculum/secondary/