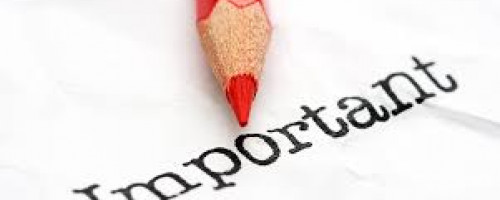 Change in Morning Drop Off Routines starting Monday, January 6, 2020
This year, we made a few changes to the morning drop off routines for students in PK-Grade 6, removing morning line-ups and opening classrooms to students at 8:00a.m. with the choice to play inside or outside until the 8:25a.m. bells. This change helped to address some of the morning routine difficulties, but also caused some challenges for parents and teachers.
In recognition of the feedback from parents and teachers since the first day of school, we have decided to make a slight adjustment to the drop-off time following the Christmas break.
Starting January 6th, teachers will continue to be in their classrooms at 8:00a.m,. but students who are not accompanied by a parent will not be invited to come up to their classroom until 8:15a.m. This will allow for brief parent/teacher meetings or chats first thing in the morning between 8:00-8:15a.m. If teachers and specialists wish to briefly touch base with each other in the morning, this can also happen in classrooms between 8:00-8:15a.m. before the children enter.
Please do not drop off your child unaccompanied by an adult before 8:15a.m. Children who arrive before this time will be directed to wait outside on the red pitch area where supervision will begin at 8:15a.m. Parents may accompany their children on the grounds before 8:15a.m. and wait with them outside until 8:15a.m. or until the whistle is blown at 8:25a.m.
Please note this DOES NOT apply to students arriving by school bus. The current routines for students arriving by school bus will remain unchanged - students will be met by a staff member and supervised in an allocated area as per usual.
**********************************************************************
自2020年1月6日(星期一)起,更改上學安排
本學年開始,學校為幼稚園一年級至小學六年級學生施行了上學新安排,取消了早上排隊上課室的規定,學生在早上8:00可選擇進入課室或留在室外玩耍,至8:25上課鈴聲響起為止。上述安排解決了原先例行規定的不便,亦令家長及老師帶來挑戰。
在了解過家長及老師的意思反饋後,學校將在聖誕假期結束後,對上述安排稍作更改。
自2020年1月6日開始,老師會如常於早上8:00出現在課室,沒有家長陪同的學生則要待8:15後方能進入課室。8:00至8:15期間,家長及老師有機會進行簡短交談。在全體學生進入課室之前,老師可邀請家長進入課室進行簡短的面談。
請 貴家長切勿在早上8:15前,把孩子送回校後即時離開。在此之前,學生可在紅色地毯處等候,助教會在早上8:15出現,協助看管孩子。
請僅記,早上8:15前所有學生必須有成年人陪同。
家長可在8:15前陪同學生到操場玩耍,亦可陪同子女直至8:25上課鈴聲響起為止。
感謝您的意見及合作,幫助學校進行調整以確保最合適的時間。
請注意:乘搭校巴上學的學生不受「更改上學安排」通告影響。所有使用校巴服務之學生,將按照過往程序,由學校職員護送下車進入校園,並如常在指定區域由當值的學校職員陪同,等候上課室。