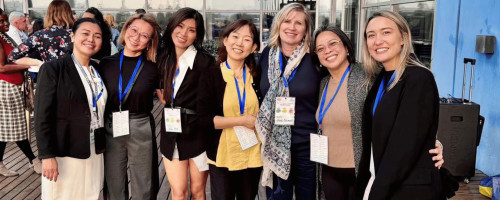 Continuous Growth and Innovation: TIS Educators Speak at ECE Conference
Teachers understand the significance of continuous professional development in their field, and conferences are crucial in providing a platform for knowledge advancement that extends to our classrooms. We are proud to share that our esteemed educators, Hiede Schmidt, our Vice-Principal for Kindergarten, and Dr. Annie Choi, who provides curriculum support for TIS Kindergarten, had the privilege of attending the ACAMIS Early Childhood Education (ECE) Conference in Shanghai.
The ACAMIS ECE conference brought over 130 participants from international schools across China, including Macao and Hong Kong. Not only did Hiede and Annie attend as participants, but they were invited to be presenters, sharing their immense knowledge of Early Childhood Education. This gave them an excellent opportunity to share their extensive experience and exchange ideas with fellow educators from diverse backgrounds at the conference.
This year, ACAMIS centred around a crucial subject: nurturing holistic child development through play-based learning. It aimed to highlight the importance of fostering essential skills in children while making the learning process enjoyable and engaging. Hiede and Annie represented the TIS Kindergarten cohort, and they took the opportunity to discuss the benefits of integrating Loose Parts into the classroom whilst sharing their insights on how these learning tools and ideology have effectively supported our students' development whilst keeping them interested and involved in the learning process.
As Hiede and Annie explained at the conference, Loose Parts play a significant role in stimulating creativity, problem-solving skills, and fostering open-ended exploration in children. By allowing children to unleash and test their own theories, they are empowered to take charge of their own learning experiences.
How Loose Parts play a part:
Enhancing the learning of young children, giving them both a choice and voice

Loose parts are incredibly versatile and can be incorporated into various subjects throughout the curriculum. For instance, in reading and math, they can greatly enhance students' learning experience by providing hands-on opportunities for the exploration and application of concepts.
Through phonics play, teachers can incorporate parts like letter tiles so that children can manipulate these to build words and reinforce letter-sound relationships. With sensory storytelling, a variety of small objects can be used, like figures, textured fabrics or natural materials, to represent elements of a story. Young learners are able to engage with these objects while listening to or retelling a story, which enhances their own comprehension.
In Math, Loose Parts like buttons, beads or small toys can be used for counting and sorting activities. Children can group and arrange these items to practice basic math concepts. Natural materials such as twigs and pebbles can be used for developing number sense, measurement, and pattern recognition, giving children a real hands-on, introduction to math experience.
Using Loose Parts like measuring tools and small containers can be used to teach measurement concepts. Young learners can use these items to compare sizes and explore the idea of length, weight and volume.
By integrating Loose Parts into literacy and math activities, teachers can foster a more engaging and multi-sensory learning environment, helping young learners develop foundational skills while having fun.
In addition to fostering inclusivity and sensory development, Loose Parts promote collaboration and social skills. When children engage in play with Loose Parts together – building a structure or creating a pretend scenario – they learn to communicate effectively, negotiate roles and ideas, share resources, and work cooperatively towards a common goal.
Furthermore, Loose Parts can be an essential teaching tool for children to learn about sustainability. Children develop a deeper understanding of the importance of conserving resources and reducing waste by using items that can be collected and reused rather than discarded after just one use. It's a practical way to instill sustainable habits from an early age.
At the conference, attendees were also encouraged to actively participate and provided the opportunity to engage with Loose Parts and experiment with them. This hands-on experience created an immersive, fun and educational learning environment for the teachers.
Hiede and Annie, besides sharing their valuable knowledge, also engaged in discussions with other educators covering many topics, including the importance of nurturing global citizens. This is an area that TIS fully prioritizes and actively encourages in our students. Another subject discussed was how teachers effectively utilized technology to communicate with parents, with each school sharing their different programs and platforms. They even discussed using Lego as a social and emotional teaching resource! This sharing of information plays a crucial role in nurturing an inclusive and connected atmosphere and picking up new ideas from other teachers. However, the significance of teacher development goes beyond that. This continuous learning environment enables teachers to keep their classrooms dynamic and engaging for all our students.