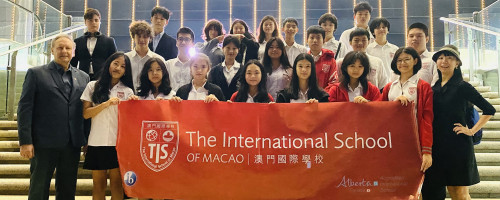 TIS Students Shine at The GBA Honor Band Concert
Handpicked among the region's most accomplished student musicians, TIS students performed at the recent GBA Honor Band Concert, a collaborative musical event among Greater Bay international schools.The concert took place on October 13 at CIS Guangzhou.
"Only the most skilled students earn an opportunity like this to participate and perform at the GBA Honor Band", said Ms. Chu, the TIS music teacher.
A total of twenty-two TIS students were chosen to participate in the event. Among the standout performers were Franky and Isabella, who led the clarinet section as the 1st and 2nd principals, respectively. Clare assumed the role of French horn principal, while Sebastião, our Trumpet player, was selected to perform a stunning trumpet solo.
"This was a great opportunity for students to learn and grow as musicians, to further their discipline and perseverance through tight deadlines, and hone their social skills and teamwork by collaborating with students from other schools", said Ms. Chu.
Students were honoured to have our music teacher, Ms. Chu, and our Head of School, Lorne Schmidt, present at the event. They enjoyed the performances of contemporary pieces such as Celebration and Fanfare, Nevermore and March Diabolique.
Despite only having one month to rehearse six challenging pieces at a performance level, our students showed incredible skills and ability. Ms. Chu pointed out,"Considering the time constraints and preparation period, our students were exceptional, and I am very proud of them."
Congratulations to all the TIS students selected to be part of the 2023 GBA Honor Band. We hope your achievement serves as an inspiration to the entire school community:
Anna Chan, James Chen, Jeff Chong, Kiki Li, Lucas Logan-Wright, Maria Colette Lei, Harry Chen, Diana Chu De Sousa, Lucas Kou, Gabriel Kow, Mia Lau, Emmi Shang, Breana Taylor, Graham Zhang, Rocky Leung, Clare Wu, Isabella Chong, Franky Leong-Murphy, Mavis Kuai, Sebastião Pinto, Yoyo Si, Leanne U.