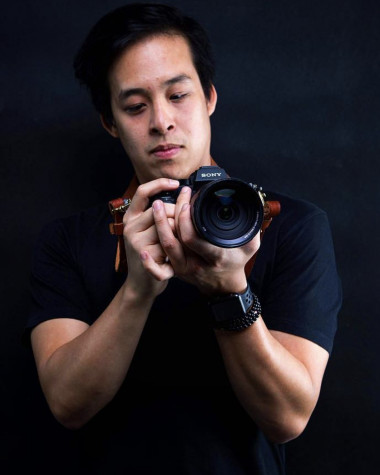 TIS alumnus Rudy Szeto had his eyes set on a culinary career after graduating from TIS in 2012. He moved to Sydney, Australia and attended Le Cordon Bleu, considered the largest network of culinary and hospitality schools in the world. As it turns out, cooking was not his true calling.
Today, Rudy is a successful entrepreneur and the co-owner of Dinkum Productions, a video production company that creates branding and marketing content for a variety of clients, including TIS. We talked to Rudy recently about his eight year journey from high school graduate to business owner.
How has your career evolved since you graduated from university?
It was an interesting chapter of my life after I graduated from culinary school. A big reason for going to culinary school was because I wanted to travel and cook, so I could see the world. Then I stumbled on a business program that taught people how to start a business and travel company, so I took the program and that jump started the next chapter of my life.
I started my first business in Sydney, Australia right after I got out of culinary school; it was a company that helped people create websites for their businesses. After two years in the website business, my business partner and I had very different vision of the future of the company, so we split and I came back to Macau. I returned not knowing what I would do next. I felt like I wasted two years, but in fact, those two years provided me with skill sets and a hunger for learning more and more skills.
Tell us about your company, Dinkum Productions.
Dinkum Productions is a video production company I started with Bruno Ritchie, who is also a TIS alumnus. I've always had an interest in making videos. I use to film travel videos when my friends and I would go traveling, but my knowledge was very basic and the quality wasn't good enough for someone to pay for my services. With help from a friend, I got reconnected with Bruno Ritchie, who had just graduated from film school.
When Bruno and I reconnected, we did our very first project together for $200 MOP. We worked great together so we decided to start Dinkum Productions in 2017. Since then, we've had the pleasure of working with some pretty cool companies, like Pacha, Lululemon, Lane Crawford, and who would have thought we would be working alongside TIS. It's been a great journey and I'm excited to see where the future will lead.
(Dinkum Productions has created many videos for TIS, including our annual Activist in Residence video.)
Do you feel that Macau provides a good climate for young entrepreneurs?
Macau is the perfect place to start your entrepreneurial journey. The Macau government has recently been encouraging people to be more innovative. Macau is going through a change where people are getting a lot more motivated to start their own businesses and I love seeing that.
How did TIS help to prepare you for university and life in general after high school?
TIS played a big part in what I do and they have always supported what their students want to do. When I was in grade 11 and 12, my mind was set to become a chef and TIS always supported that. I had the opportunity to work in the school kitchen and experience what it was like and I loved it.
What are your fondest memories of your years spent at TIS?
I loved my years at TIS, the friends I made, and the experience week trips that built character and a chance to see the world. I'm still very close to a lot friends I made in TIS and I think it's because TIS created such a friendly community and environment.
Where do you see yourself in five years?
I'm not sure where I'll be in five years but if I continue on this journey of constantly improving my skills and learning, I'll be on the right path to achieve the goals I set for myself.