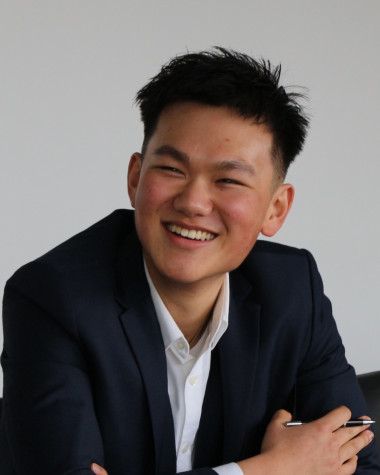 Marco Chak has been blazing a trail in the world of business as the founder of life coaching company, Divicati. Since completing a three year Bachelor of Arts degree at the University of Edinburgh, Marco has been busy growing his business while also investing time in his own personal growth. We caught up with him recently to find out more about his new venture and life as an entrepreneur.
What was your motivation for starting your own life coaching company?
My goal before entering university was to have a business before graduating. However, after my third year of university, I felt that I wasn't learning as much as I was on my own. My intuition told me that one more year of pricey business school was not the answer to my quest and so I opted for a gap year to focus on starting a business. I started a life coaching company because I had a strong passion for personal development and I was helped by two life coaches during my second year of university. They were like father figures to me and gave me the coaching I needed to get out of a depression. Through their guidance, I become a more happy, productive, and confident person. After experiencing the power of coaching, I wanted to see if I could also positively impact others and that's how Divicati was born.
The name Divicati comes from the combination of the word "divine" and "being" in Latin - iustificati. The reason why I chose this name is that I wanted to remind myself and others that we are more than our physical body, that we are spiritual beings having a human body experience. I believe that if humanity operates under this paradigm instead of the illusion of separation created by our egos, the world will become a more loving and harmonious place. Cutting edge quantum physics is gradually suggesting that everything is connected and that we are all one. It's my purpose to help myself and others realise and experience Oneness and that's how I came up with the name.
What challenges/highlights have you experienced along the way?
I started Divicati in July of 2019, and it has been a rollercoaster ride. There have been plenty of challenges, especially being a solo founder. The whole business is dependent on me. Without someone to share the lows with, sometimes I can feel very overwhelmed. This occurs especially during times when I don't see any progress despite my continuous best effort. The negative chatter would enter my mind, and sometimes I would succumb to that voice and doubt whether I am on the right path and enter a downward spiral. However, I have deliberately worked on this issue and have trained myself to brush away the negativity and charge forward with faith.
Another challenge I am facing is figuring out a formula for attracting a consistent stream of clients. For the first ten months of the business, I have marketed myself as a life coach, however that was a mistake since people do not know what problems they can come to me for. Recently I have refined my niche as a life purpose coach to help people find and live their purpose. With this new positioning, my message is more clear and I am confident that I will be able to attract consistent quality clients by the end of the year. What I have learned in my journey so far is that regardless of where you are in your business, there will always be challenges. The most important thing to do is to embrace them, be free from the outcome and enjoy the process as much as possible!
There are also things to celebrate. Since the start of Divicati, I have created the website, got my life coaching certification, coached 25 clients, launched my podcast: Conscious Conversations, hosted four online workshops, reached 100 subscribers on YouTube, got accepted into the Macao Young Entrepreneur Incubation Centre and held a one day retreat for a client in Coloane. I am grateful for the person that I am becoming - a man with the courage to follow his heart and dreams. Although financially the business isn't very stable, I feel that I am on my purpose journey, doing what I love and am supposed to be doing. I am taking my time to build a strong foundation for Divicati and it's only a matter of time before my hard work pays off.
How did your entrepreneurial experiences in high school help with the startup of Divicati?
I co-founded my first business called M&EM Clothing during my grade 10 summer holiday. Before this business, I wasn't particularly a hardworking person. However, M&EM Clothing gave me a reason to put in more effort in all that I do. I learned that in order to have a successful business, I had to cultivate the qualities of being disciplined, motivated and hardworking.
Academically, I challenged myself to achieve honours and when I did, I gradually saw myself as a competent individual. In grade 11, I enrolled in an entrepreneurship class which taught me the foundation of starting a business and inspired me to start reading business books. After M&EM Clothing, I decided to start something again because I realised how much I loved the process of turning an idea into reality. I pitched Mr. Stribbell, the Head of School at that time, the idea of a food-cart. To my surprise, he approved it and even gave us some capital to bring it to life. With the help of my friends, we were able to create the food-cart during our grade 11 summer holiday which allowed me to learn how to operate and manage a small business. All these experiences helped to solidify my passion for entrepreneurship and set me on the path to pursue business as my university major and eventually led me to startup Divicati.
Where are you at now with your own development journey?
Since 2016, I have deliberately worked on my personal growth with the help of my life coach, books, retreats and online courses. Through these efforts, I was able to heal my past traumas, let go of limiting beliefs and become a more energetic, happy and confident person. However, personal development is a lifelong journey; there are always things to improve on. Currently, I am working to become a more authentic version of myself so that I can share fully who I am when I coach, write and speak - no more being held back by the opinions of others.
Spiritually, I am striving towards my purpose of being as enlightened as possible. I am working on this by becoming a better meditator. Last October, I went to a 10-day Vipassana meditation retreat in Hong Kong which helped me to develop more awareness of my consciousness. My next goal is to achieve a state of egolessness and feel connected to everything.
Where do you see yourself (and your company) in 5 years?
In 5 years, it will be 2025 and I will be 27. I see myself being a world-class coach, entrepreneur and podcast host. I will become a better public speaker, design thinker, product manager, leader and speak one more language. Spiritually, I see myself being a better meditator, more connected with my heart and the Universe. Business-wise, I will most likely be in Bali or the United States, leading a 10 person startup team working on creating a scalable product such as a coaching platform. By then, Divicati will have multiple coaches producing content for the YouTube channel and we will reach half a million subscribers. Divicati will also create an annual personal and spiritual growth conference where we invite thought leaders from different domains to share their expertise. Overall, I see myself being happier, surrounded by nature and talented good-hearted people, doing impactful things for the world and enjoying the abundance that comes with it.
What advice do you have for grade 12 students who will be starting their university career?
Here are some of the things I wish I knew when I was in grade 12. The first advice I would give is to determine if university is the right option for you. A lot of students pursue higher education without much consideration because it's the "right thing" to do. However, if you are unsure about your passion, it could be very beneficial to take some time to figure it out before moving on to the next stage of your life. During that time off, in addition to figuring out your passion, I would suggest visiting the universities of your interest to see they are the right fit for you. I have studied in three universities in three years and what I learned is that picking the right university is key for a fruitful experience.
I would also suggest researching university alternatives. For example, if you want to learn to code, Make School is a great institution. What's innovating about their model is that you do not have to pay any upfront tuition. You could pay a percentage of your salary as your tuition when you get hired. Make School's curriculum is so practical that I have friends who were hired by top companies after only one year of studying there. Another example is Praxis, an institution that teaches you business skills and places you with startup companies for 4 to 6 months; a high percentage of students get hired after one year of their program. There are a lot of alternatives to a university degree. Therefore, make sure you do your research to know which option is the best for you.
If you have determined that university is the right fit for you, then I will advise you to maximise your experience during your time there. Don't do it just for the degree, but do it for your own personal growth as well. To make the most out of your time there, get out of your comfort zone, put yourself out there, try as many things as possible, and meet as many people as possible. What greatly contributed to my experience was attending one event per week and also sitting in different classes that I was interested in. At university, you also want to make sure you create opportunities for yourself to apply what you learned, as classes tend to be very theoretical. You can do this by joining a society, starting a business, attending hackathons and volunteering. Through these experiences, you will be able to develop practical skills, refine your passions and increase your employability.
My last piece of advice to grade 12 students is to make sure you allocate time to your personal development. Students at university are prone to procrastination, depression and loneliness.Therefore, cultivating a positive mental attitude and the ability to lift yourself is critical. It would also be wise to spend some time to heal your past traumas, break-through your limiting beliefs and discover your life purpose. If you do this, by the time you graduate you will have a solid personal development foundation and will have a good idea of who you are, who you want to become and how you want to live your life.
If you are interested in learning more about life coaching opportunities with Divicati, feel free to email Marco at marcochakmacau@gmail.com.