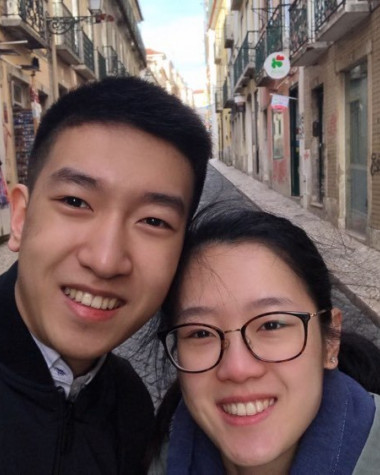 After spending their entire lives together, twin brother and sister John and Joy Kuai set off on different paths after graduating from TIS in 2017. For the past three years, they've been attending universities on opposite sides of the globe and pursuing their passions in law and aviation.
John is currently in his third year of an undergraduate law program at the Catholic University of Portugal (Universidade Católica Portuguesa) while Joy is studying at the University of Waterloo in Ontario, Canada. She was originally enrolled in Honor Science & Aviation but as soon as she received her private pilot license, she switched to an Honor Science degree minoring in Earth Science and Biology. The change means that she's not restricted to flying only, and can explore a variety of other sciences within aviation.
TIS had the opportunity to chat with John and Joy recently to find out what their journeys have been like so far and where they think life will take them in the future.
What challenges/highlights have you experienced at university?
John: When I first landed in Lisbon, Portugal, in October 2017, the first challenge that I had to face right away was the language. Being in a totally new environment and speaking minimal Portuguese really made things more complicated sometimes, let alone studying law in a new language. Luckily for the first year of my program, the university provided a language-based foundation course and I put in 101% effort just because of the language barrier I knew I was going to face. Now that I have already spent three years in the country, I still wouldn't say that my Portuguese is perfect, but it is at least good enough for daily communication and university classes.
Joy: The one biggest challenge I have experienced was getting used to the university style of teaching and the amount of material needed to be learned. Having classes with 400 other students in a lecture hall the size of 4 MPR's needed some time getting used to. Interaction with the professor was very minimal and the majority of the learning depended on myself. If I was behind, I had to either find ways to catch up or ask my friends for help. I have learned the hard way that there is no one to remind you of the due dates and no excuse for extending the deadline.
How do you think TIS helped to prepare you for university and life in general after high school?
John: The style of teaching in high school at TIS is actually very similar to how professors do it in university. I still remember that back in high school, we had to choose the courses that we wanted to take for every semester. This process can really help students to understand and see better for themselves what they are interested in and what they are good at. Furthermore, TIS provides students with hands-on experience in their university applications; university applications are not an easy process and require a lot of research and organization. Thanks to the advice of academic counselors and various university sessions, students really get to know the step-by-step process of how to apply to the universities that they are interested in. This experience will always be helpful in the future, for instance, when we are writing a resume, doing an interview, applying for a job, internship, scholarship, etc.
Joy: Since I went to a university in Canada, I think that every little thing about TIS assisted me throughout my first year in Waterloo. TIS follows the Canadian curriculum and everything we learned about was related to Canada. Therefore, when I got to Canada, I felt less alienated and I was able to adapt to the culture quite quickly. The university application sessions for grade 12s and the university fair also gave me a pretty good idea of what to expect in university.
What are your fondest memories of your years spent at TIS?
John: Definitely experience week trips! The memories created during those times are irreplaceable. I not only learned about life experiences that broadened my horizon, I also developed stronger friendships with my friends. Being able to explore different cultures and places with my best friends and teachers was the best time ever and even until today, I still laugh when I think back on those moments.
Joy: Wow, that is a hard question because almost all of my memories at TIS are so fond. If I were to choose one, I would say it's the memories I have of Experience Week. Being able to explore different countries/cities, go on airplane rides with friends, and be worry-free for rent and tuition due dates are certainly things that I'll never forget. I consider those times as the "golden times" in my life.
What advice do you have for grade 12 students at TIS who will be starting their university career?
John: First of all, do not panic! It is true that Grade 12 is a critical year and can be very stressful with university application deadlines as well as diplomas. Instead of getting really stressed out, students should take the process one step at a time and think through what they want for themselves. After all that hard work, receiving the offer that you have always wanted from a university can be such a rewarding process. One thing that I would recommend for Grade 12 students is to do as much research as possible and follow your passion instead of being misled by others' opinions. University is not only about studying, it is also a time when students really get to know themselves better. It has definitely been one of the best periods in my life. Stay organized with all the applications and do not be afraid to set sail for your own adventure.
Joy: It is okay to have no idea what you want to study or get enrolled in a program in a university that you later find difficult. Yes, going to university is all about getting into a major, studying hard and graduating with a degree. However, university is also about discovering your passion and it is never too late to pursue a different major. I have a friend who majored in three fields and is still doing well in life because her experiences during those times broadened her horizons. As long as you have found your passion, studying hard and sticking to your goals will pay off.
Where do you see yourself in five years?
John: After five years, I will finish my undergraduate degree and I hope to see myself doing a master's degree. Moreover, I would like to see myself becoming a certified lawyer in the future and defending the meaning of justice. Most importantly, we should live to the fullest in our present times, so there will not be any regret in the future.
Joy: This is definitely the million-dollar question that I ask myself every time before I make a decision. I spent the majority of my time in university learning as much as possible about aviation and throughout this period, I developed a great interest in the construction and maintenance of aircraft. If everything goes as planned, I think I would be an aircraft mechanic working on a Boeing 777 in a hangar located somewhere in this world. If I decide to carry on with my private pilot license, a flight instructor, or even better, a first officer is a possibility. However, sometimes life is all about unexpected events so everything has a fair chance of happening.