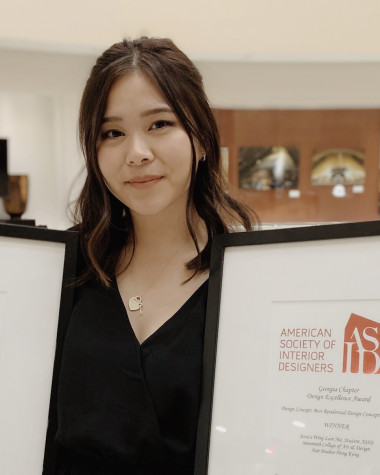 Not many people can say that they attended university in a different location for every year of their program, but Class of 2016 grad Jessica Ma is one of them. She spent a year at the Savannah College of Art and Design (SCAD) campus in Hong Kong before transferring to its Savannah, Georgia location and then to its campus in Atlanta where she graduated summa cum laude with a Bachelor of Fine Arts in Interior Design in 2020.
Her accomplishments while at SCAD have been a wellspring of pride for the university, including her impressive win as Emerging Interior Designer of the Year by the 2020 International Design Awards (IDA) for her project "The Independent Living Inc." In both 2019 and 2020, Jessica won the ASID Student Portfolio Competition; her portfolio was selected from over 250 portfolio submissions throughout North America. In 2019, she also earned a summer internship at Gensler, one of the world's most reputable architecture and interior design firms, as the recipient of the Gensler Brinkmann Scholarship,
You achieved a number of impressive accomplishments during your university career. Can you tell us about them and what they mean to you?
International Design Awards (IDA) Emerging Interior Designer of the Year 2020
This was my first global recognition award. I won a total of 11 awards at the IDA awards ceremony in 2020. I'm always surprised to win. I'm always inspired by the work around me and believe I can address design solutions better. So my confidence is always restored with these amazing achievements. I am also very thankful for the many opportunities available for students to share their outlooks and passions with the professional industry.
ASID Student Portfolio Competition
It was definitely a very competitive and intimidating opportunity to be part of, especially because I felt unprepared and insignificant as I had previously transferred from my Biomedical Engineering course in my freshmen year. This experience taught me that being passionate, aligning my life values with my creative work, and yearning to share my ideas with the world was what set me apart as a unique designer. It widened my horizons to realise the importance of pushing design boundaries in the interior design industry.
Gensler Brinkmann Scholarship
I was nominated by SCAD to participate in this competition which featured my project "The Independent Living Inc." I always knew I wanted to be part of the healthcare industry, which led to my initial endeavours to pursue Biomedical Engineering at the Hong Kong Polytechnic University. My project submitted for this competition was close to my heart as it focused on curating memorable and impacted experiences for individuals with Autism Spectrum Disorder to learn and gain independence. Being recognised for this project made me realise that I could combine my interest for social work and passion for design to make an impact. This scholarship restored my confidence in my work, and interning at one of the world's most reputable firms was something I never imagined to happen.
Where are you working now?
I had returned to Macau to complete my online studies in 2020. I worked for one of Macau's most well-known architecture firms (Arquitectos Associados) from July 2020 to April 2021. I never pictured myself working in Macau, but this short term experience definitely changed my perspective of how design can build the unique colony into a better community. It was super exciting to be designing the streets, buildings and experiences in a land that I grew up in. I still believe that Macau has a long way to go to build a more sustainable, desirable and functional home for its people, and I hope to have the opportunity to be a part of the push.
I currently work at ICRAVE in New York City. It's the true place to be for "experience design". I am currently working on a range of projects from restaurants and bars, to hospitals and airport lounges.
Where do you see yourself in 5 years?
I don't have a specific location in mind, as I have definitely seen myself hopping from place to place over the past few years. I'm always open to exploring and challenging my comfort zone. I try not to settle and I don't set expectations of where or what. I hope to see that in 5 years, my passion for design and willingness to give back to the community would be even greater than it is today, and of course, loving what I do every single day.
How did TIS help to prepare you for university and life in general after high school?
While I was in high school, I longed to graduate and go to college. However, now that I've graduated college, I've realised some of the fondest memories I had were from my experiences at TIS. TIS granted me many opportunities to strengthen a spectrum of skills that have helped me stand out in society. Being Vice-President of the Student Council, President of the Volunteer team, and contributing in sports and clubs, I developed interpersonal and communication skills that allowed me to develop unique connections with people as I stepped into college and the working world. I am also extremely thankful for the counsellors who helped me make my transition to SCAD from PolyU. Even as a graduated student, TIS continued to guide me to find the right path for me to pursue.
What are your fondest memories of your years spent at TIS?
Friendships. To this day, my best friends in life are still the ones that I met at TIS. There's something about the diverse community at TIS that isn't often found elsewhere.
What advice do you have for grade 12 students who will soon be starting their university careers?
The most important thing I can say to anyone, whether they're in school or not, is to be honest with oneself. Being honest about how you feel, and why you feel a certain way. College is a weird place - I would say that most people don't know what they are doing but do as they're told anyways. It's important not to blend into the crowd and follow society's expectations. It's an exciting time of your life to find out what you like and what you don't. It's an expensive investment, so don't let those years pass by with no meaning. Try out clubs, different courses and workshops, go on exchange programs, take a gap year if you feel overwhelmed - take your time to embark on our own journey. We are the only ones to set the path in front of us. I loved my time at SCAD, because I surrounded myself with creatives and people who inspired and pushed me to be better everyday, and I believe that is what education should do.