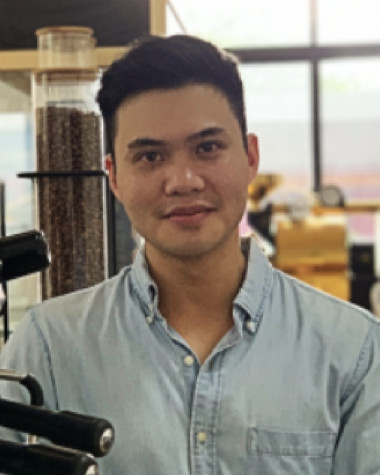 An interesting journey almost never follows a straight, predictable line and that couldn't be more true for Daniel Remedios whose own path has taken him more than 3,650 km from his home in Macau. After graduating from TIS in 2012, he attended Newcastle University in the UK where he attained a three year Bachelor's of Combined Honours degree. He returned to Macau and worked in the gaming industry for nearly two years before an opportunity presented itself in the Southeast Asian nation of Timor-Leste.
What took you to Timor-Leste?
At the time I had already desired a change in my environment both physically and mentally, away from the familiar city of Macau and away from my comfort zone which had always been where my family and closest friends were. The transition was not easy, but I'm very glad that I took the leap of faith coming here because if not, I would not have opened California Cafe, experienced and learned (and will continue to learn) about the food and beverage industry and many other industries, or have met all the amazing people along my journey, and I am grateful for that.
Tell us about California Cafe and your motivation for starting the business.
A friend introduced me to the coffee trade industry (shout out to Daniel & Kim) in the early stages of my arrival to Timor-Leste and it wasn't long after that I saw an opportunity to use my own ideas and creativity to start my own coffee shop. There is no shortage of ways that you can put your own twist on the traditional coffee shop model; my current model is good coffee, food, and board games by the beach (it's simple, but it's working out)!
What's the business climate like in Timor-Leste for young entrepreneurs?
Whether you are a young entrepreneur just getting started or a seasoned businessman, it is important to keep an open mind when coming to this country to do business. As a developing nation, it lacks many of the luxuries that first world nations have, however, it makes up for it in a lot of ways which makes this country such a gem. One of the many benefits for entrepreneurs doing business here is that you can be a pioneer in many industries (although whether your business is successful or not is another story). The beginning stages of starting any business will be difficult, but the feeling of seeing the fruits of your labor is truly a rewarding one no matter where you choose to start your business journey.
You've been out of high school now for almost ten years. How do you think TIS helped to prepare you for life after high school?
If not all then most of the credit would have to go to our teachers. They were always willing to engage with students if we had a problem whether it was academic or personal. I know that definitely translated into our studies and helped us reach our goals in getting into the universities we wanted to go to.
What are your fondest memories of your years spent at TIS?
When the school organized a dodge ball tournament for a fundraiser event. What was especially fun about it was that teachers and students had a chance to play against one another. I remember thinking "man these teachers are going dowwnnn!" But it was indeed us students who went down (hard) and got our butts handed to us. Because what were we thinking going up against full-grown adults?!
Where do you see yourself in 5 years?
In five years time, I would like to:
See some other projects I'm working on completed or near completion

Establish a consistent coffee trade between Timor-Leste and China/ASEAN countries

Maintain regular habits of exercise, meditation and reading

Fitness-wise, be 70 kg lean

Be able to travel regularly again

Compete in open fencing tournaments (hopefully standing on a podium)