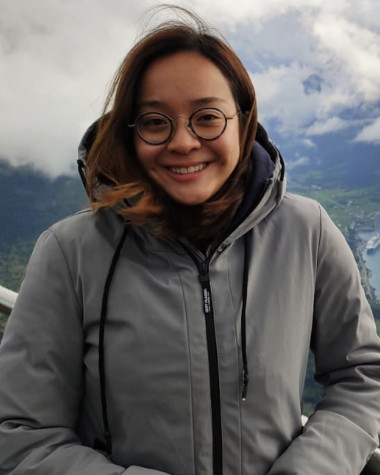 TIS alumna Coco Ieong is the embodiment of a successful student athlete. In addition to navigating the demands of TIS' rigorous curriculum, she was also swimming competitively for Macau, participating in local, national and international competitions and winning her fair share of medals in the process. In 2016, she won the Macau Outstanding Teenagers Award for demonstrating extraordinary performance in personal achievements and skill development.
After graduating from TIS in 2017, Coco attended the University of Bradford in the UK where she was enrolled in the Bachelor of Science program in Physiotherapy. Under a heavy course load and stress from clinical placements, she turned to her love of swimming as a way to manage stress levels. She joined the university's swim club and regularly competed in British Universities & Colleges Sport swimming competitions and varsity games.
"Not only has swimming taught me the importance of time management under academic stress but it has built my mental strength," says Coco.
Coco graduated with Honours from her program in 2020 and is now practicing as a full fledged physiotherapist in Macau, helping her clients regain mobility, function and wellbeing.
Where are you working now?
Job hunting during the Covid-19 pandemic has been stressful and challenging. Soon after graduation, I was offered a short-term position as a locum physiotherapy assistant at Physio One Centre while waiting for my Macao physiotherapy practice license to be issued. Even though it was temporary employment, I went into it with the right attitude and an open mind that I would learn useful skills that I could bring with me anywhere - this resulted in positive feedback from my patients and senior colleagues.
I am now working as a freelance musculoskeletal physiotherapist at the Mantec Medical Center in Macau where my responsibilities include diagnosing and providing appropriate treatments.
Besides, I am a swimming coach to children and children with special needs, and a teacher assistant at the Nike (Macau) Physical Fitness Camps. Recently, I was invited to the International Youth Neuroscience Association (IYNA) as a consultant.
What do you like most about being a physiotherapist?
I love being a physiotherapist because I am always learning new knowledge and helping people. Every day combines a hundred little moments (small wins) which can be as simple as a person being able to walk a little further, having less pain or regaining more joint range of movements. As a physiotherapist, I aim to provide care in every aspect possible and to inspire patients regarding their health and confidence.
I feel satisfied and accomplished when I see a patient become independent and functional by themselves. From personal experience, a simple "thank you" from patients makes it such a rewarding job.
How did TIS help to prepare you for university and life in general after high school?
TIS taught me that it is okay to seek help when in doubt, which I believe was the main contributor to having boosted my adaptation into an English-speaking environment and the curriculum.
Teachers and academic counsellors were incredibly supportive throughout my studies which allowed me to explore opportunities with ease, step out of my comfort zone with less self-doubt and have the courage to embrace challenges.
What are your fondest memories of your years spent at TIS?
Experience week trips, outdoor education classes and the water fights were the highlights of my TIS memories. I love exploring nature, trying new activities such as hiking, camping and kayaking, getting on planes with my friends and experiencing the local culture – these memories are irreplaceable and I have missed every single second of it.
What advice do you have for grade 12 students who will be beginning their university career?
Life is like a roller coaster; it has its ups and downs but it's your choice to scream or enjoy the ride. It is ok to be lost but don't feel bad about feeling lost – this can be a vicious cycle. Even as a qualified physiotherapist myself, I still get lost sometimes. My advice to you all would be: do what you love, remember why you started and always leave yourself a little room to breathe and recharge your energy.
Grade 12 is stressful but high school is about self-exploration. Focus on yourself and be disciplined while finding passion in things that you might not have pursued before. You are only at the very beginning of a new chapter in life. Don't be ashamed to seek help from teachers and counsellors – this is how we learn and grow as a person. Lastly and most importantly, trust the process, believe in yourself and be patient!
Where do you see yourself in five years?
In five years, it will be 2026 and I will be 26. With my feet on the ground, I see myself working in a Hong Kong or Macau hospital setting and possibly becoming a neurologic specialist with a master in neurological physiotherapy.