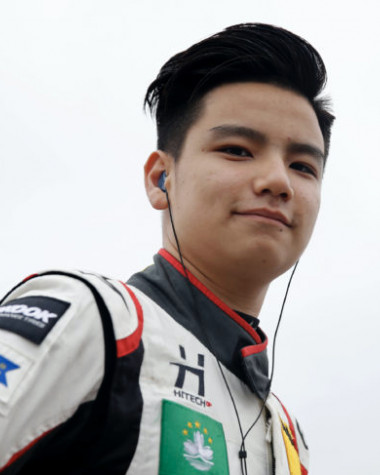 TIS alumnus Charles Leong (Class of 2020) was 8 years old when he first tried his hand at go-karting on a school field trip. From that point on, he was hooked and got involved in professional karting for five years before graduating to Formula 4 at the age of 13.
He progressed quickly, winning the Asian Formula Renault Championship as well as the Chinese FIA F4 Championship in 2017. The following year, he stepped up to Formula 3. Charles has twice participated in the Macau Grand Prix in 2018 and 2019, with a best result of 19th in 2019. He'll get another chance to test his skills at the 67th Macau Grand Prix on Nov 20-22.
How have you been preparing for the Macau Grand Prix, both mentally and physically?
I have been going to gym recently and doing simulator work. We are not able to practice with the car because the cars are still being shipped to Macau. Mentally I am fine and just need to stay positive and keep focusing on everything in life.

The Grand Prix is being run for F4 cars this year rather than Formula 3. How do you feel about returning to F4?
Returning to F4 is an advantage. I drove this car and won the championship in 2017. I know the car much better than the F3 car.

You will be a home favourite in the Macau Grand Prix this year. Are you feeling any pressure? What are your hopes for this year's event?
I don't feel much pressure and I am pretty relaxed with it. This year I am looking forward to the win.
Update: Charles claimed first place in the Formula 4 Macau Grand Prix on Nov 22, 2020!

Besides racing, what other plans do you have for the future?
We've had a cafe since April (Patio Cafe in Taipa). I am a part-owner. We decided to open the cafe because we saw opportunities. Our first priority is to learn and gain more experiences from the business; we have learned a mega amount so far. The second step is actually to develop our business and make it profitable. Later on, we are going to open an E-sport place including racing simulators, VR, and so on. It will be located opposite to the basketball courts outside TIS named MESUF.
It is really hard to say about the future since everything these days is just very complicated and way too unpredictable. Now I am just planning to head back to the UK in January to go to university and also run Patio Cafe properly as well as MESUF.
November 19, 2021 update: Charles was the winner in the China Formula 4 Race in the 67th Macau Grand Prix in November 2020 and is looking repeat during the 68th Macau Grand Prix on November 19-21, 2021.
Macau is lucky that Charles has elected to stay locally and continue his racing and entrepreneurial pursuits.
Charles has sold the Patio Cafe and MESUF has been re-named Sandbox VR and G Racing, which is located on the MUST campus opposite the TIS basketball courts at Block I Gymnasium, Avenida Wai Long.
Contact Sandbox VR and G Racing at 6861 2389 and www.facebook.com/sandboxvrmacau/.