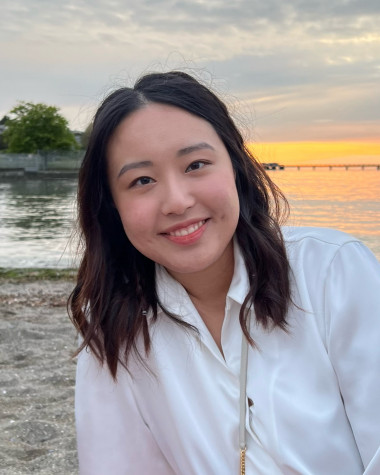 Getting into medical school and becoming a physician is a dream of many. For Anson Tang, this dream is about to begin. After graduating the University of British Columbia with a Bachelor in Science and major in Behavioural Neuroscience, (Class of 2022), Anson is now pursuing her long-held aspiration of becoming a doctor. Anson's commitment to a lifelong pursuit of academic knowledge, passion and desire to helping people is an exemplary embodiment of the TIS Mission statement. Congratulations Anson!
"[TIS is] known for helping its students to develop critical thinking skills and encourages them to be open minded. Hence my family and I believed TIS would be the perfect school for me."
Congratulations, Anson for being accepted to HKU Medicine! The White Coat Ceremony is a rite of passage for medical students and you just had yours on September 18. Can you tell us about it: how was this iconic ritual and what does it mean for you?
It was a truly special and memorable event. To me, The White Coat Ceremony is a recognition of my classmates and I starting our journeys in medical school and marks the beginning of our lifelong commitment and dedication to serving others. During the ceremony, teachers from our faculty helped us don our white coats and we recited the Declaration of Geneva, which is a medical code of ethics that we shall always follow. Not every medical school has white coat ceremony for their students so I really appreciate that HKU hosts it for us.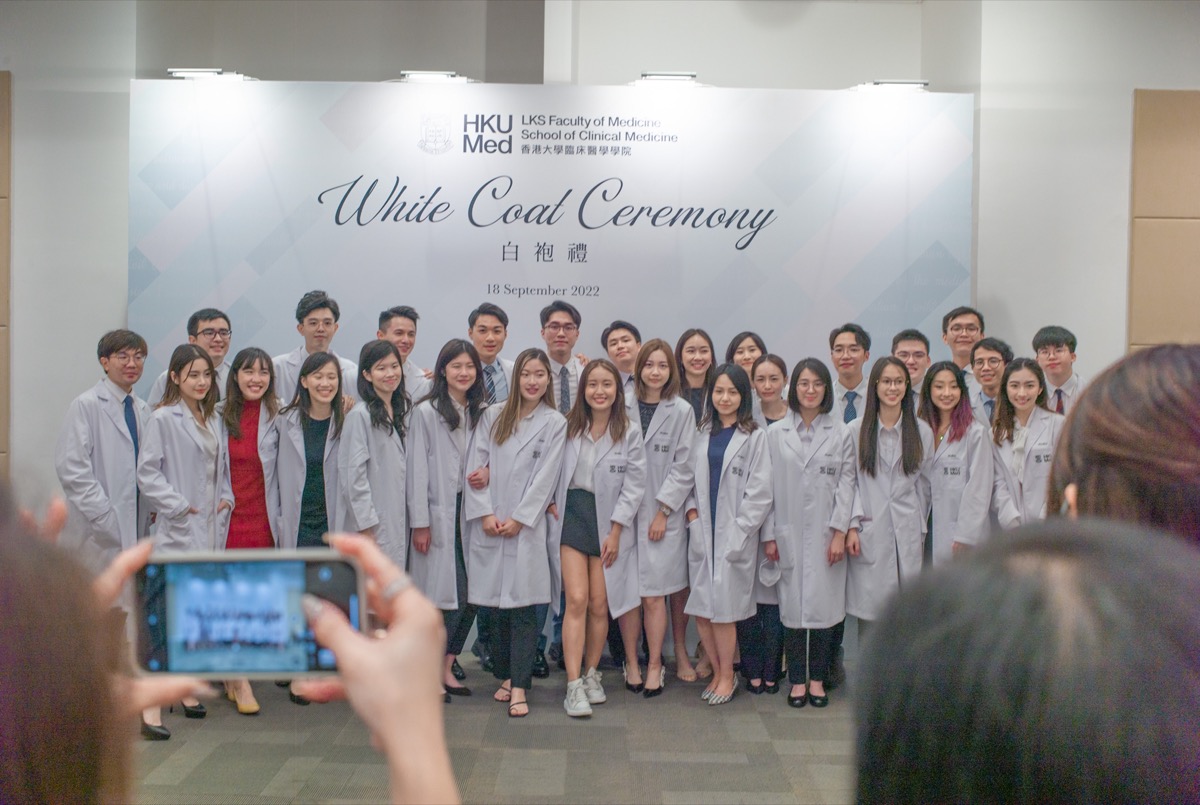 Did you always want to pursue medicine? What do you want to specialise in?
Yes. What sparked my initial interest in medicine was my own scoliosis condition as I was inspired to become a knowledgeable, compassionate and empathetic doctor just like the doctors that have treated me. Then I had the opportunity to perform a summer placement at the M.U.S.T hospital in Macao, which allowed me to have a glimpse of a doctor's typical day and the nature of their work. Besides that, I also volunteered a lot and worked with different vulnerable populations, and realised that I want to be able to apply professional medical knowledge to expand my service to them.
I love working with children and have volunteered at a children centre for children with special needs, interned at TIS's inclusive needs department and also worked at a paediatric occupational therapy clinic. So, I wish to specialise in paediatrics but it is hard to say for sure as I might change my mind after different specialisation rotations in the hospital.
You met two doctors during the ceremony that operated on you - would you like to share this story?
I was diagnosed with scoliosis at the age of twelve and have been dealing with a contoured back appearance, back pain, and self-consciousness. During this battle with scoliosis, Dr. Michael To conducted examinations on me and provided professional advice. Then last May, Dr. Jason Cheung performed spinal fusion surgery on me. Next year, they will be teaching my classmates and I about the musculoskeletal system. From my personal experience as a patient, they are incredibly knowledgeable, skilful and compassionate doctors and I cannot wait to learn from them.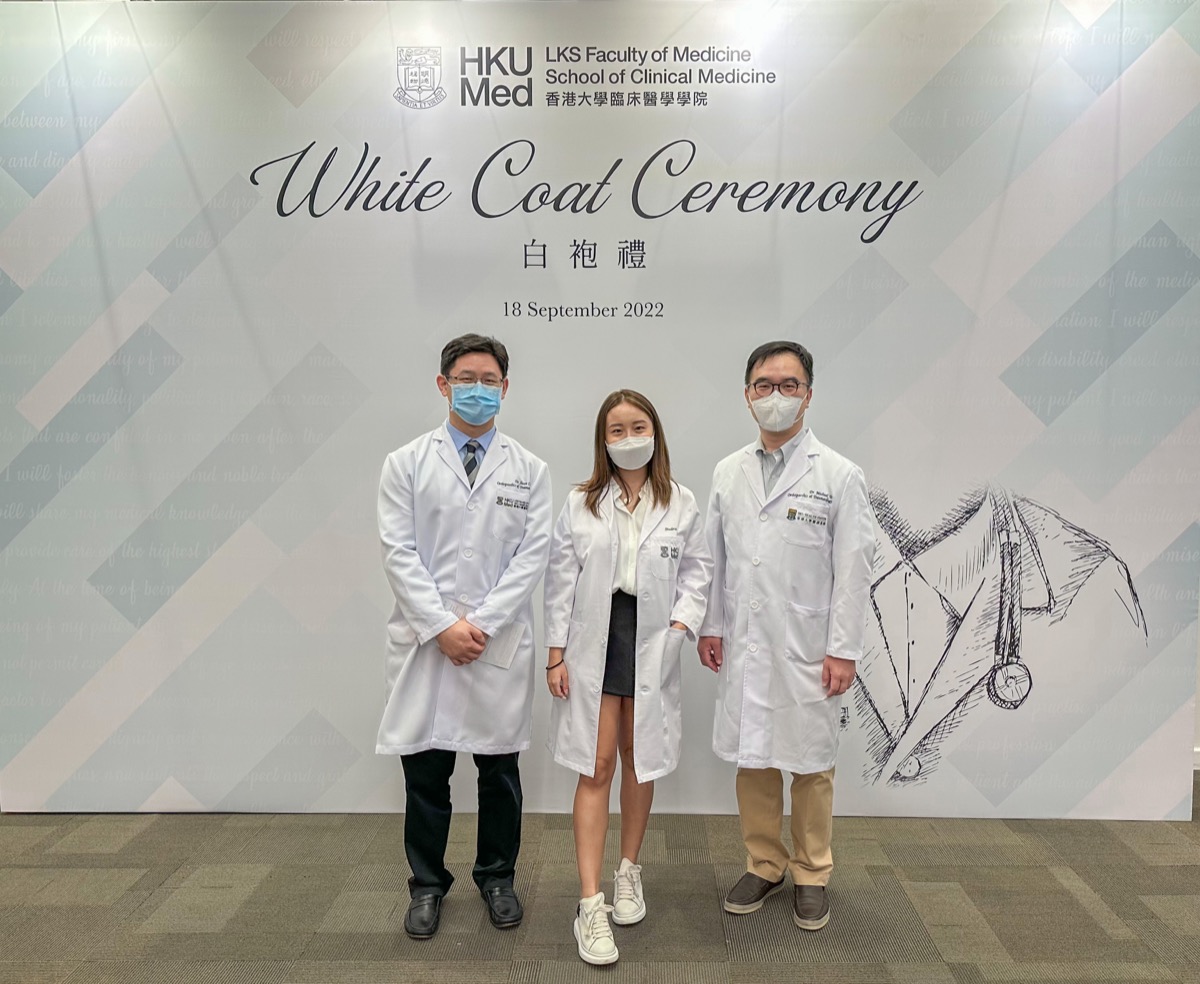 You started TIS in Grade 7. What made you and your family choose TIS to pursue your secondary school?
I planned to go to Canada for university and TIS is known for its excellent Canadian curriculum.
It is also known for helping its students to develop critical thinking skills and encourages them to be open minded. Hence my family and I believed TIS would be the perfect school for me.
What did you learn during your time at TIS, in class or out?
We often had various kinds of team projects in different classes, such as creating a music video, building robotic models and presenting on a certain topic. Through these projects, I learned the importance of communication and teamwork.
Also, TIS has many teams and clubs, and one of the teams I joined was the volunteer team. As the president of the team, I learned leadership, interpersonal and management skills through setting agendas, delegating tasks, hosting meetings, organising events and solving problems together with my teammates. We did a variety of volunteering events ranging from visiting elderlies who lived alone, hosting fundraising events, and helping out at the special olympics.
How did TIS help to prepare you for university and life in general after high school?
Because TIS has students coming from all over the world, I am used to working with others with diverse backgrounds and experiences, and appreciate and understand all kinds of perspectives.
You did an internship at TIS - why did you choose to intern at TIS and what did you learn?
Due to the pandemic, I have returned to Macao while doing online school. With extra flexibility in my schedule, I wanted to gain additional experience working with children, and I knew TIS has always welcomed their alumni to visit or intern at the School and it strives to provide the best learning environment and resources for its students. Working with young students with developmental delays required careful observation of their body language and communication predicated on their level of understanding. I was also challenged to develop creative and innovative ways to capture their attention and interest in learning to learn. Overall, this internship highlighted to me the importance of compassion, patience, and sympathy when caring for others.
What are your fondest memories of your years spent at TIS?
There are so many! Some of them include experience week in Thailand, water fights with my classmates and teachers after finals, and chilling with my friends and catching up on sleep on Ms. Mak's couch.
What would be your advice for current students interested in pursuing the medical field?
I would say try to do whatever you can to gain a better understanding of the profession. For example, find shadowing and volunteering opportunities, talk to medical professionals, and read medical autobiographies. Pursuing this field is a lifelong commitment and it is important to find out if it suits your personality and life goals.
What makes you proud to be a TIS alumna?
I am proud that TIS alumni go on to pursue their dreams and are succeeding in many fields!
What word or phrase would you use to describe a TIS alumni?
Ambitious, bold, confident