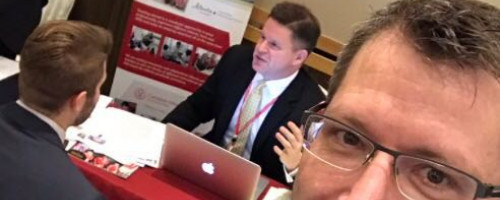 TIS on the Recruiting Trail
By Christopher Coates, Secondary School Principal
The most effective way to improve the quality of a school is through the recruitment of outstanding teachers. Like all educational institutions, international schools strive to attract motivated teachers with strong subject knowledge who can relate to and engage with students. But finding teachers who are a 'good fit' for the international teaching scene can be challenging. Not all educators are prepared to move great distances from family and friends to continue in their profession. This is the trade-off that international teachers make - leaving their loved ones at home for an exciting personal and professional life abroad.
At TIS we are always striving to attract top teachers who welcome the idea of moving away from what is familiar and comfortable. We look for highly motivated professionals who want a stimulating international experience. These people are not easy to find, so we literally travel the globe to find educators in a very competitive recruiting environment. We are not just contending with other schools in Macau for top teaching talent - we are going 'head to head' with schools in Hong Kong, China, Thailand, Singapore, Korea, Japan, and even Europe. The international school world is geographically large, but in reality, quite small as a community. We work hard to compete with other top schools throughout the world to attract the best and the brightest to TIS.
We are now in the midst of the recruiting season. We had twenty-seven (27) positions to fill when we first ventured out on the recruiting trail in December. Staff turnover is a normal part of international school life, as teachers choose to return home or move on to new and different international experiences. However, this year, many of these openings are due to the coming expansion in our Elementary School. To meet this challenge, our senior administrators have been to Calgary, Edmonton, Toronto, Kingston, Bangkok, and Hong Kong. We are very close to filling all of the open positions and extremely excited about our new recruits who will join the TIS family.
This is the time of year when I'm reminded that life in an international school is bittersweet. It is a fact of life that we say "goodbye" to wonderful friends and colleagues who make the difficult decision to leave TIS. Lifelong relationships are formed when we work closely together and support one another, so far from home. We can never replace these relationships, since each is in and of itself unique and special. But we do look forward to the new relationships yet to be formed when we meet our new friends and workmates in August. Such is the life of the international school teacher.