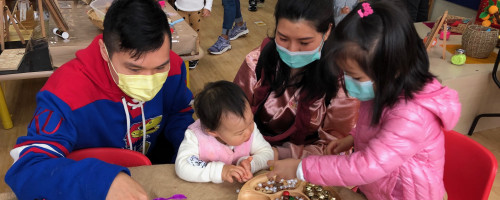 TIS Hosts Successful Open House!
The International School of Macao opened its doors to more than 150 prospective students and their families on Saturday, February 27th during its annual Open House event.
Families attended a presentation in the Black Box Theatre where they received a warm welcome from Head of School Howard Stribbell. Elementary Principal Mary-Anne Jasinski and Secondary Principal Lorne Schmidt then provided information about the Alberta, Canada provincial curriculum, which is the cornerstone of the School's successful education program. Students and parents also learned about the IB Diploma Programme offered to Grade 11 and 12 students. The IBDP is an intensive 2-year academic programme that is offered concurrently with the Alberta Diploma programme at TIS. Students have the option of completing the full IB Diploma Programme or IB Courses in specific subject areas.
Following the presentation, prospective students and their families enjoyed a variety of displays in the Primary and Secondary Libraries which highlighted the special programs and activities offered at TIS. Campus tours were also available so that families could see the School's modern and spacious facilities, which are among the best in Macau. In addition, classrooms, science and robotics labs, physical education facilities and the Learning Lab were all open for visitors to tour.
The annual Open House gives teachers and administrators the opportunity to create a personal connection with prospective new students, while also providing families with valuable insight into the different programs and school culture.
"Choosing a new school can be a difficult decision for parents", said Elementary Principal Mary-Anne Jasinski, "An open house allows them to visualize their child at our school and determine if it is a good fit."
TIS is accepting applications for JK-Grade 11 from March 1-4th. For PK students, please contact our admissions team via admission@tis.edu.mo or call +853 2853 3700.