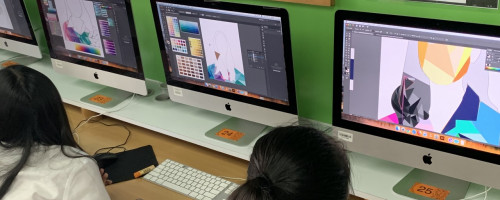 Technology and the Alberta Curriculum
Since the first graduating class in 2009, the vast majority of TIS graduates have received multiple offers from highly-ranked universities around the world. Most recently, 50% of the 2018 graduating class was offered admission to the world's top 100 universities. While some things have changed over the last eleven years (teaching staff and the schools' physical space for example), the one thing that has remained consistent is the rigorous and challenging curriculum at TIS.
The curriculum is the planned programme of objectives, content, learning experiences, resources and assessment offered by a school. In Alberta, the curriculum is outlined in "Programs of Study" which identify what students are expected to learn and do in all subjects from Kindergarten to Grade 12.
While technology is integrated into almost all subject areas, there are two Alberta Program of Studies that focus specifically on technology. The first is Career and Technology Studies (CTS) which covers grades 10 to 12, and the second is Career and Technology Foundations (CTF) which is for grades 5 to 9.
In CTS, students are able to study topics such as photography, videography, programming, architecture and robotics. These varied areas of study allow students to expand their knowledge about potential career paths while also allowing them to pursue learning opportunities that reflect their interests and passions. Through the CTS program, students are provided with opportunities to personalize their learning, identify and explore their interests, manage transitions between high school and the workplace or post-secondary study, and develop the attitudes and behaviours that people need to participate and progress in today's dynamic world of work.
The CTF Program of Studies is based on 14 learning outcomes that identify what students are expected to learn and what they are to be assessed on. Throughout the CTF program, students develop literacy and numeracy skills in the following five areas: Business, Communication, Human Services, Resources and Technology. This diverse curriculum provides a strong foundation for those students transitioning to CTS in High School.
At TIS, there are several specialist teachers that lead our CFT and CTS classes. Their expertise ensures that both programs allow students to develop the skills, attitudes and behaviours needed to take part in today's dynamic and changing world. Information on the CTF and CTS Programs of Study can be found at this link: https://www.alberta.ca/programs-of-study.aspx.