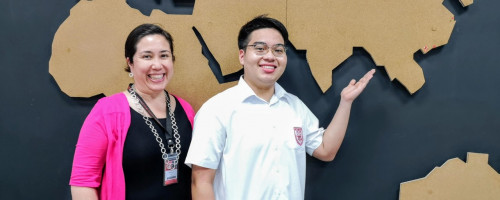 Pursuing a Career in Chinese Law
Throughout the history of TIS, our graduates have accepted offers from many great universities around the world. However, applicants to universities in mainland China are few and far between. Soon-to-be 2020 graduate, KK Ieong, has been offered a place to study Chinese Law at the highly acclaimed China University of Political Science and Law in Beijing. We caught up with him recently to learn about why he chose a Chinese university when most of his peers have applied to universities in the west, and any tips in the application process he could share with fellow students who may also be interested in studying in mainland China.
I understand you joined TIS in Grade 8. Where did you go to school before TIS, and what was the reason for changing schools?
KK: I was studying in a local school in Macau before I came to TIS. The reason for changing schools was I believe that TIS has better opportunities for me in deciding my future career whether to study overseas or locally.
Did you have any difficulties in adjusting to life at TIS?
KK: I faced many difficulties during my first year at TIS. Before I came to TIS, I could barely speak English which caused language barriers in communication with my teachers and classmates. There were three challenges that I faced; these include adapting to a brand new environment, developing my English speaking, writing, and listening skills and trying to catch up on my homework because of the difference in curriculum.
Ms. Hubert mentioned you are an accomplished Trombone player, tell us a little more about that.
KK: I started to play trombone in Grade 5 at the Macau Conservatory Music School. Now I am a bass trombone player in Macau Youth Symphony Orchestra (YSO). Last summer, I went on a music tour with the YSO to Beijing, Portugal, and Spain.
What other interests do you have? In particular, what other activities/clubs/sports have you taken part in at TIS?
KK: I was a member of the touch rugby team from Grade 9 - Grade 10.
When did you realise you wanted to study law, and in particular Chinese Law?
KK: I have always wanted to be a lawyer since Grade 8. When I realised the similarity between Macanese Law and Chinese Law, studying law in mainland China seemed to be another option for me.
Why a Chinese university as opposed to a western university?
KK: Since the Macanese Law and Chinese Law are similar and western common law does not apply to Macau, a Chinese university would be a better choice in comparison.
Your advice or tips for other students considering applying to study in China, and in particular applying through the DSES - how much research did you have to do, was the information easily accessible online, etc.
KK: Talk to your Academic Counsellor about your goals and plans before university applications. Be aware of the recruitment date. Research materials can be found on the DSES website. Prepare all the needed materials, eg. report card, ID copy, photos. Be punctual when attending the interview and result day and remember to wear your school uniform. I learnt this from experience, as I turned up late on result day without my uniform which caused much embarrassment.
How did your teachers/councillors support you in your application/choice of course?
KK: Ms. Hubert stayed up late to assist me in completing the application form. Additionally, she also provided a well-written reference letter for me.
Have you received any other offers from universities?
KK: I have an offer with a scholarship from the University of Macau to study law.