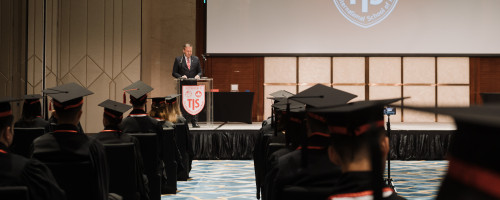 Congratulations Class of 2020
This year, sixty-eight Grade 12 students received their Alberta High School Diplomas in front of friends, families, TIS staff and invited guests. In addition, four of these students will also be graduating with full IB Diplomas.
We wish each and every one of them all the very best as they leave our TIS family to fulfil their dreams and goals. As a group, they have been accepted into over 186 universities world-wide, and amassed an impressive list of scholarships totalling over 8.5 million Patacas (and counting).
Kesha and Domi did a grand job as MCs for the occasion.
Gordon L. represented this year's cohort by delivering an uplifting valedictorian speech and bid farewell to TIS on behalf of his fellow classmates.
As is TIS tradition, the graduation awards acknowledged the following students for their hard work and dedication in their school work and to the community.
Governor General Award : Sariputra T.
The Governor General's Medal, established in 1873, recognizes the student who has achieved the highest overall academic average including all Grade 11 and 12 courses.
The Patrick Mitchell Community Citizenship Award: Sariputra T.
Awarded to a well-rounded student with both academic achievement and extracurricular participation. They show leadership in the school community and exemplify TIS and its mission statement.
Neil P. Johnston Fine Arts Award: Lillian H.
Awarded to the student who has made an outstanding contribution to TIS in the area of Fine Arts, through their study of music, drama, art and/or multimedia as well as their involvement in these areas while participating in school-related activities.
DSEJ Lotus Awards for Academic Excellence: Sariputra T. & António F.
Awarded to the female and male students who have maintained the highest grade point averages for Grades 10, 11 and 12.
DSEJ Premio Li Bai Award: Domi W.
Awarded to the top student of Chinese Language and Culture in Grade 12.
TIS Pioneer Certificates: Annie L., António F., Howard T., Eric S., Benedicte N.B.
Given in recognition of students who have been at TIS since pre-kindergarten.
The Spirit of Canada Award: Sarah G.
The Spirit of Canada Award winner does not only hold his/her academic career in high regard and has a well rounded school life, but believes in balance. This balance is achieved in many ways, such as being an active participant in various extracurricular activities in and outside of school (ex. the Arts and Athletics, community service). Furthermore, the award recipient shows leadership in the school community and works well in an international and multicultural community.