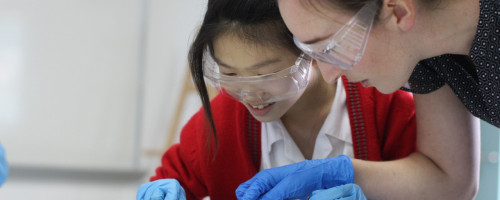 At TIS, all students pursue graduation with an Alberta High School Diploma. As a program of choice, some of these students also pursue an International Baccalaureate [IB] Diploma. The IB Diploma is undertaken in the final two years of High School, Grades 11 and 12, alongside study of the Alberta curriculum to meet Alberta graduation requirements.
Prior to TIS offering the IB Diploma program, our students had been highly successful in gaining university offers when applying to institutions around the world. We are finding that for those students who are also pursuing an IB diploma, even more opportunities for tertiary education are arising. Many universities are providing dual offers to TIS graduates with IB Diploma. The offers have been based on meeting entrance conditions with the Alberta results or IB results. Depending on the institution, sometimes the conditions for acceptance are easier to attain with the Alberta results, while for others, the conditional offer may be more easily met via the IB results.
Beyond these university choice advantages, the benefits to a student taking an IB Diploma course or doing the full IB program are many:
Greater depth of study in each subject

Opportunity to study three subjects at Higher Level (more breadth and depth)

Emphasis on developing critical thinking

Better prepared for academic writing at tertiary level

Shared experience with like-minded students as part of the IB cohort

Good grades in IB courses may allow students to receive university credits
IB and Alberta curriculum
Alberta Middle School and Grade 10 courses prepare students to do well in IB courses. At TIS, we incorporate elements of the IB Diploma philosophy and approaches into our Alberta-based courses and programs. For example, IB science courses place a heavy emphasis on carrying out laboratory-based investigations. At TIS we carry that philosophy into our Alberta science courses as well, as it provides a platform for deeper learning of science (and mathematics) concepts to be attained. Another example is that we incorporate the elements of the IB CAS program (Creativity, Activity and Service) into all of our Experience Week trips from Grade 7 to Grade 12 as we feel this program provides depth and rigor to the experience outside of the normal classroom. The CAS framework and learning outcomes provide an structure for each student to grow personally and to develop new ways of thinking about themselves and the world around us.
In summary, we encourage interested students to consider the benefits of doing a joint Alberta/IB Diploma. Students who achieve well in these programs have a wider array of skill development and university choice options.